Goal
Identify the number of the liquid feed valve quickly.
Explanation
In pig farms that use liquid feeding, a piping system transports the feed from the "kitchen" to the animals' hoppers.
At the end of this route there is a valve in charge of regulating the amount of feed to be supplied. A valve may be supplying feed to a group of animals in the case of the fattening stage or a group of gestating sows (whether they are housed in stalls or in groups), or it may be supplying feed to only one sow (in the case of a farrowing room or of some gestation stalls).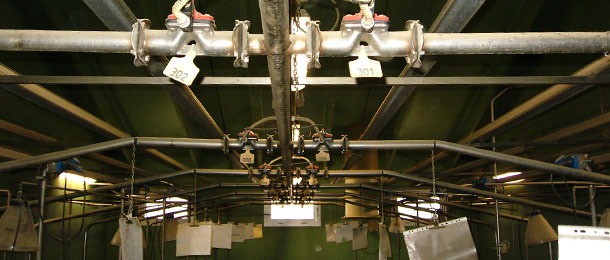 In all these cases, the regulation of the feeding must be carried out daily, and in the case of the farrowing rooms, if we want to make it properly, it must be carried out for each meal. Every time that the regulation of a valve is modified, the data must be introduced in the computer that manages the feeding system.

In some farms, the number of the valve is written directly on the downspout of the feeding pipe or on the actual valve. In these cases, many times it is necessary to be exactly in front of the valve in order to be able to see the number.
On this farm, sows' ear tags numbered on both sides and held with plastic tie wraps on each of the valves are used. In this way, the numbers can be seen from both sides, and even from a distance, and this allows an easy identification of each of the valves, even from a distance.