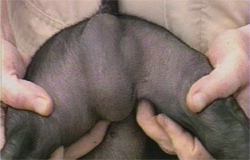 Scrotal hernia (Source:www.docstoc.com/docs/48396152)

Hernias are the most common genetic defect and often cause welfare problems as well as economic loss. In most surveys the typical herd incidence is between 1% and 2%. However, it is quite common for herds to have 'storms' where the incidence may exceed 5% for periods of several months.

There are three types of hernia – scrotal, inguinal and umbilical. Scrotal Hernia obviously occurs only in males while inguinal hernia may also occur rarely in females. Umbilical hernias are more common in males and occur due to weakened supportive muscles around the umbilical area.

Many producers report that hernias are also associated with cryptorchidism, a condition occurring when one or both testes fail to descend into the scrotum. Obviously, this can have a major impact on a nucleus herd but also may result in penalties in slaughter pigs due to 'boar taint' concerns. Some research indicates that genotypes with a high incidence of cryptorchid offspring tend to produce a low incidence of offspring with scrotal hernia and vice versa indicating that there may be a connection between the inheritance of cryptorch­idism and scrotal hernia.


Large umbilical hernia in pig (Source: www.extension.org/pages/27432)

Cryptorchidism (one testicle retained) in male pig

(Source: www.extension.org/pages/27432)

Due to the frequency of these defects and their adverse effects on profitability there has been culling against all the traits for many years in breeding herds. However, according to the published literature this appears to have no apparent impact on the frequency over time. In addition, there are examples for all the defects of herds using the same dam and boar lines but having significant differences in incidences, suggesting environmental interactions. When this occurs there is something within the environment that allows a particular genotype to exhibit the condition. This suggests 'complex' inheritance and possible environmental interactions.

As a result, with the advent of DNA technologies, there have been a large number of studies conducted in the last ten years that have attempted to identify markers that may be associated with the expression of the defects. Both broad genome scans and candidate gene approaches have been used and it appears that many chromosomal regions may be involved in the traits. For example, a recent Ph.D study using a crossbred population based on White Duroc and Erhualian (Chinese) breeds revealed 'significant' genetic regions on chromosomes 1, 2, 3, 6, 4, 7, 8, 10, 11 and 13 for umbilical hernia and regions on SSC2, 4, 8, 10, 13, 16 and 18 for scrotal/inguinal hernia. The most promising loci were SWR1928 on chromosome 7 and SW830 on chromosome 10 for umbilical hernia, and SW933 on chromosome 8 for scrotal hernia.

In another recent study, in Norway, one particular genetic grouping on chromosome 5 was found to be transmitted to scrotal/inguinal hernia pigs with four times higher frequency than to healthy pigs. Now researchers are 'homing-in' on specific genes that may be involved. For example, for scrotal hernia, the genes in the oestrogen receptor signaling pathway (KIF18A and NPTX1), the epithelial-mesenchymal transition (ELF5) and the collagen metabolism pathway (COL23A1) have all been implicated. In addition, two genes involved in collagen metabolism (HOXA10 and MMP2) and the gene ZFPM2 could have important roles in hernia development.

However, this list is not exhaustive and appears to increase as more research is published, indicating just how complex is the genetic background to the problems.

The challenge for the future will be to validate the identified genetic regions in different populations and environments and to study their effects on the defects and also on other important traits in order to prepare for their possible implementation into breeding programmes using marker/gene assisted selection schemes.

Until the geneticists finalise their 'gene searches' so that breeding organisations can eliminate causative genes, there are several areas upon which the producer can focus to 'maximise' the environment for hernia reduction. For example, in umbilical hernia, good sanitation and hygiene may be more likely to reduce the incidence of umbilical hernias than eliminating certain boars or dams! Environmental factors such as abnormal stretching of the umbilical cord during farrowing, incorrect placing of navel clips or infection of the umbilical 'stump' on the piglet could contribute to failure of the umbilical cord opening to close correctly. In the case of scrotal/inguinal hernia, careful pig handling can make a very significant difference on herd incidence. As in all pig production, good stockmanship reaps results!