Caudophagia or tail biting is one of the main problems in the fattening phase, and refers to the abnormal behaviour of biting other pigs' tails. The pain from the wounds have negative effects on their behaviour, health status and growth, and cause significant economic losses. Tail docking in piglets is the practice commonly used to prevent tail biting. However, it can cause pain, and their effectiveness is questionable. A study executed by our group revealed that 60% of assessed intensive pig farms had suffered outbreaks of tail-biting despite all animals having had their tails docked (Temple et al., 2011).
One of the most important aspects to prevent tail biting is allowing animals to express their exploratory behaviour in an appropriate manner. In intensive farming conditions, the presence of enrichment material favours the expression of such behaviour and helps prevent tail biting. However, the following properties must be considered when choosing the most suitable material:
Edible

, preferably digestible and with some nutritional benefit.

Chewable

, providing information about taste.

Manipulable

, allowing pigs to explore with their snouts.

Destructible

, allowing pigs to thoroughly evaluate any material.
- Clean. Pigs reject dirty materials. Therefore, materials placed on the floor can get dirty and the animals will quickly lose interest.
- Harmless. They should not be toxic or a potential source of injuries when destroyed. Examples of elements that can cause intestinal perforation include wood chips from softwood such as pine, metal wires from tires or pieces of broken plastic bottles.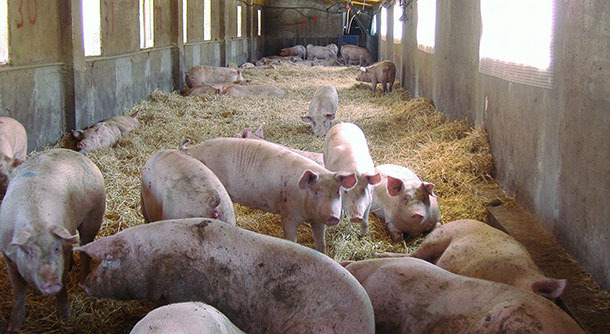 The frequent provision of bedding material not only ensures that pigs have access to clean enrichment material, but also provides the novelty that stimulates exploration and manipulation and, therefore, it is considered the most appropriate enrichment material (Photo 1.) However, the use of straw or a similar substrate as bedding is very rare in hot climate regions, because it can increase the effective temperature perceived by the animals and have a negative effect on feed intake, growth and well-being. In addition, these materials are difficult to use on farms with slatted floor, as they can fall through the slats and cause maintenance and slurry management problems. Therefore, the material used must not only meet the pigs' behavioural needs, but also be compatible with the farm management system.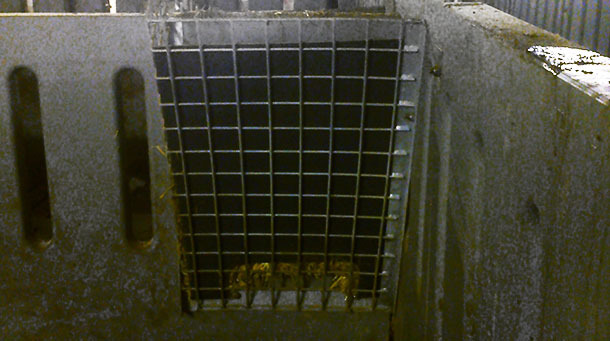 When offering bedding as enrichment material is not possible, as it happens in fully-slatted floor farms, there are other options available. Thus, it is possible to offer the same materials (straw, hay, alfalfa and forage) in feeding troughs or dispensers (Photo 2.) In this case, the administration of only enough material for daily use ensures that the animals remain keen and that the material is consumed rather than end up falling through the slats. To avoid wasting this material, the dispenser must have narrow openings and, if possible, be placed on a non-slatted area.
However, the position of the enrichment material also affects the way in which pigs interact with these objects (Photo 3.) When offered enrichment materials at different heights, pigs manipulate the objects positioned at ground level longer than objects hanging above floor level. Likewise, pigs manipulate objects hanging a few cm off the floor longer than those positioned at snout level.
The supposedly easier-to-use materials (such as plastic tubes or hanging chains) do not satisfy all the aforementioned properties, and attract the animals' interest for greatly reduced periods of time (Photo 3.) For example, plastic tubes are not edible, they are difficult to destroy and, even though they can be kept clean by being above floor level, they can quickly lose the novelty effect, thus reducing the animal's interest.
Project EuWelNet has developed educational materials on environmental enrichment in Spanish. It includes a list of materials used and the properties of those materials that allow pigs to develop appropriate handling behaviour.
Material used as enrichment:
objects or toys

Properties that satisfy appropriate handling behaviour

Edible

Chewable

Manipulable

Destructible

Chain



Only superficial chewing

Plastic / Plastic tube





The harder the plastic, the less chewable




The harder the plastic, the less destructible

Wood block





Hardwood can be too hard for pigs to chew




Wood can splinter. Hardwood, as a large block, may be too hard for pigs to destroy

Cardboard



BUT





if cardboard is recycled, it may contain toxins

Handling possible if left at ground level

Ball


Fabric: sack and ropes



Handling possible if sack left at ground level

Salt licks


Coordinated European Animal. Welfare Network (EUWelNet)
Material used as enrichment

Properties that satisfy appropriate handling behaviour

Straw
Edible

Chewable
Manipulable
Destructible
Hay
Edible

Chewable
Manipulable
Destructible
Forage
Edible

Chewable
Manipulable
Destructible
Soil
Edible



Soil may contain edible components, such as roots

Chewable
Manipulable
Destructible
Wood chips
Edible

Chewable
Manipulable
Destructible
Sawdust
Edible

Chewable
Manipulable
Destructible
Food dispenser with, for example, straw, hay or forage
Edible

Chewable
Manipulable
Destructible
Coordinated European Animal. Welfare Network (EUWelNet)