Goal
Medication of the water in the tank in a quick way and without having to go up a ladder, and achieving a good mixing of the product.
Trick
Use the body of a water filter as a vessel for introducing the drug and connect it to the tank inlet pipe.
Explanation
When carrying out water medications directly in the tank, two problems normally appear:
Access is difficult because the tank is high.
The drug may dissolve improperly if it is poured directly in the tank.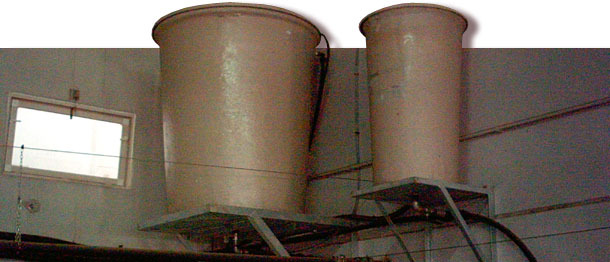 Normally, a previous solution is carried out in a vessel, and then it is poured in the tank, but this may be difficult when the tank is difficult to reach. With this trick we solve both problems.
In the tank inlet pipe we insert a filter body (only its case, disassembling the inner filter). On its upper part we assemble a water valve, so when it is in its open position we can insert the drug using a funnel (in this image it is a water bottle that we have cut out). Once inserted, we close this water valve. After, we open the tap that makes the water enter the dispenser, keeping closed all the water valves (6, in this case) that go to the different rooms. The water enters with high pressure through the filter case and mixes with the drug. After, we open the water valve that goes to the room that we wish to medicate.
In this way we attain a good solution and the drug goes up to the tank without having to go up a ladder. Also, from a same location we get to medicate several rooms easily.