Introduction


The mating and control unit is one of the most important elements of a sow unit. Thus, it must facilitate a high pregnancy rate, high number of piglets, uniform body condition, sow longevity and a low return rate. In other words – the design of the mating and control unit must aid the caretakers in obtaining a high production.



Mating and control unit – considerations


First of all it must be decided whether the mating and control unit should be separated into two separate units or include both parts in one unit.

The classical design is based on a separate mating and control unit. In this case there is space for sows and gilts in the mating unit for one week. After mating, gilts and sows are moved to the control unit where they stay for a period of 4 weeks. Subsequently, animals that are detected pregnant are moved once more to the gestation unit where they stay for 11 weeks.

There are both advantages and disadvantages of having a separate mating and control unit. With a separate mating unit it is easy for the staff to focus their work on the mating procedures, which take place only in a limited part of the building. Moreover, it is less costly to include a so-called "eros centre", which allows strong boar stimulation of the females. The eros-center is usually a separate building section with several adjacent boar pens and stalls for the females to be inseminated.

However, it is a disadvantage that sows must be moved an extra time as compared to a combined mating and control unit where the animals stay in the same stall from weaning until they are moved to the gestation unit unless they return to oestrus.

With larger sow herds and increased labour cost the tendency is to design a combined mating and control unit to avoid relocation of animals. In Denmark there are even combined mating control and gestation units being installed to avoid excessive relocation of animals.

Of course, the combined mating and control unit must meet the same success criteria as mentioned earlier. Without an eros centre this may seem difficult. However, newer studies have shown that stimulation of the gilt/sow may be improved if the animals are not continuously exposed to a boar. Thus, in new Danish units the boars are kept in a specific unit or in pens in the gestation unit. They are only introduced to the females the first couple of days after weaning and again on the day of insemination. This procedure provokes a very strong standing reflex by the female. Since stimulation fades away after 20-30 minutes it is important that the number of females stimulated corresponds to the number of sows that can be inseminated.



Number of spaces


Regardless of the type of mating and control unit the design starts with the number of animals per batch and the expected farrowing rate. The females that should be mated are composed of weaned sows, returns and gilts. Hence, the number of sow places can be estimated as shown in Table 1.



Table 1. Effect of farrowing rate on number of places in a combined mating and control unit for a sow herd with 1,000 sows, 44 sows per batch and a replacement rate of 22%.




Farrowing rate
80
85
90
Gilts mated per week
12
11
11
Sows mated per week
43
41
38
Total mated per week
55
52
49
Buffer spaces per week (10%)
5
5
5
Total spaces per week
60
57
54
Total spaces – 5 weeks
300
285
270

Generally, it is recommended to allow for variation in farrowing rate. Thus, designing a system for a farrowing rate of 90 is too optimistic. In Denmark most unit are designed for a farrowing rate of 85, but in conditions with less possibilities of environmental control it might be more safe to design the mating and control unit for a farrowing rate of 80.

In addition, it is necessary to account for sows that are moved between units. Before group housing was required by law – extra spaces for one sow batch were usually placed in the mating and control unit, because of cost of space. Today, it is necessary to provide this space in the gestation unit in order to comply with the requirement of group-housing 4 weeks after mating.

The mating and control unit must also have space for replacement gilts. Gilts should be moved into the mating unit from the quarantine or gilt unit at 23-25 weeks of age and grouped in pens according to age. If gilts are grouped in relatively small batches of 6-8 animals per pen it is easy to observe and record the date of first oestrus and subsequently move gilts to stalls together with sows when they are ready to mate in 2nd or 3rd oestrus.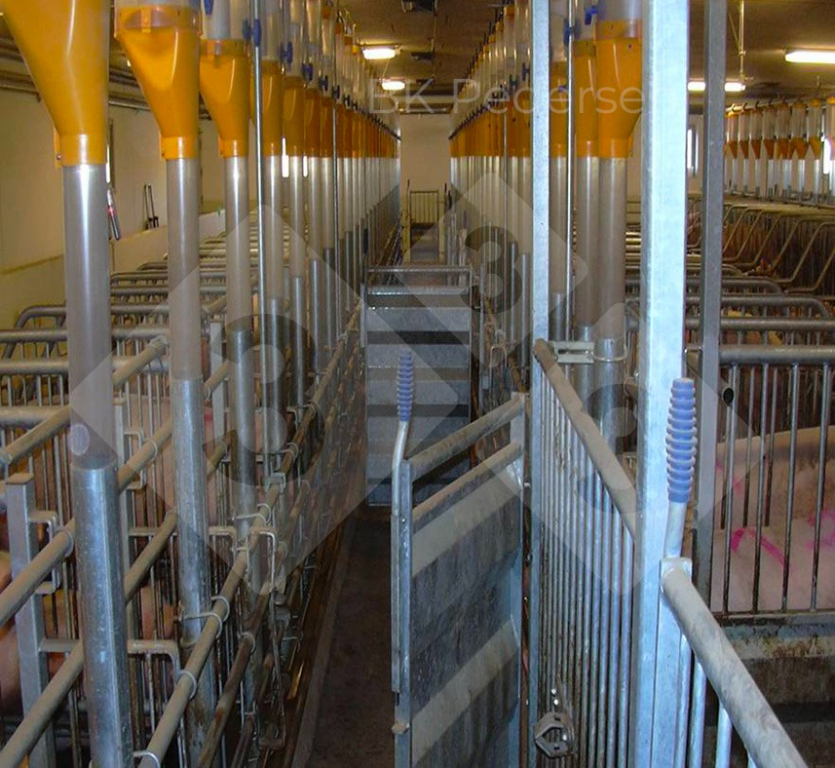 Figure 1. Design of mating and control unit with stalls and "boar-gates".




Design of mating/control unit


• Stalls with space for stimulation – no steel bars above sow
• Passage in front of sows 0.8-1.0 m wide
• Solid gate in passage for each 6 sows or use remotely controlled boar cart
• Free access to water
• Feeding system must supply specific diet for animals in mating unit, e.g., lactation diet
• Gates in front of all passages and intersections



Management


• Group sows by batch
• Group sows by size
• Open gate when sows have been inseminated – allow boar access to next animals
• Boar stimulation (surprise):
• Weaning day + 1-2 days
• During insemination
• Do not stimulate more sows than can be inseminated in 20 minutes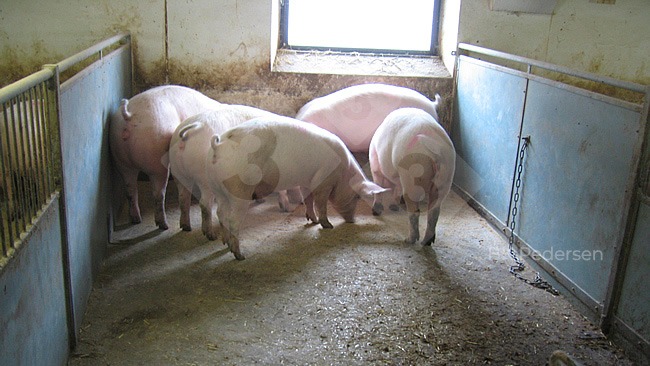 Figure 2. Typical Danish gilt pen with floor feeding and 6 animals per pen.




Design of gilt pen


• Partly slatted floor
• Floor feeding
• Pen dimension 3 x 4 m (6 gilts)
• Water bowl – free access to water
• Open pen partition above slats to facilitate defecation behaviour



Management


• Group gilts at 23-25 weeks of age
• Feed restricted (gilt diet) to improve longevity
• Group gilts in stalls with sow batch in 2nd or 3rd oestrus
• Inseminate at 32-34 weeks of age