When nursery and fattening pens with liquid feeding are designed, we must bear in mind two limiting factors with respect to the capacity of the pen: its surface and the length of the trough. In order to avoid that the latter factor is the limiting one the troughs are normally lengthened, and sometimes they are as long as the pen. In this case there are less free corners for the pigs to defecate, and in several occasions they do so in the trough, with the consequences that this has on the hygiene.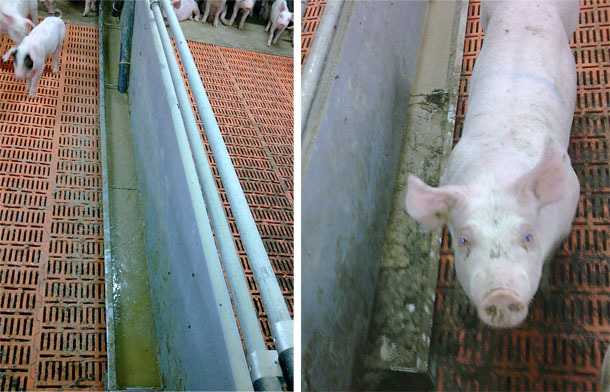 | | |
| --- | --- |
| Urine in the trough | Faeces in the trough |
In order to avoid that the pigs urinate and defecate in the trough, we can use spare PVC pipes like the ones used for installing the feeding system and place approximately a metre of pipe on the floor parallel to the trough and tightened with two clamps.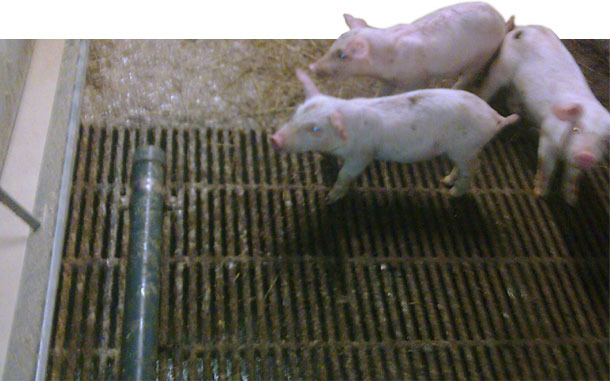 PVC pipe for avoiding defecations in the trough
It is important to pay attention to some details:
The pipe must be closed at both ends.
The distance to the trough must be enough to avoid that the faeces fall in the trough in case that the pigs defecate when their rear legs are in contact with the pipe.
The space between the pipe and the trough must avoid that the pigs walk comfortably around that area, because if not the pigs could avoid the pipe and defecate in the trough.
The pipe has to be an obstacle for defecating, but not for eating.
A correct distance between the trough and the centre of the pipe would be 14 cm, as we can see in the photograph.
The result on the farms in which this trick has been implemented is normally quite satisfactory, and the hygiene increases considerably.
It is recommendable to try this in a pair of pens before deciding on the exact length of the pipe, as well as on the distance between the pipe and the trough, and make the correct decisions after seeing the animals' behaviour.