According to the last data published by the Ministry of Agriculture (MAPAMA), last year, the total number of pig farms was 86,641, of which 14,213 were extensive; 68,980 intensive, and the rest were mixed.
These data show a drop by 13% in the total number of pig farms in the 2007-2016 period (99,561 farms in 2007 versus 86,641 in 2016). The trend has been completely different for the intensive and the extensive farms, with an increase in the number of extensive farms, that have gone from 13,475 in 2007 to 14,213 in 2016, whilst the number of intensive farms has dropped by 16.5%, going from 82,648 farms in 2007 to 68,980 at present.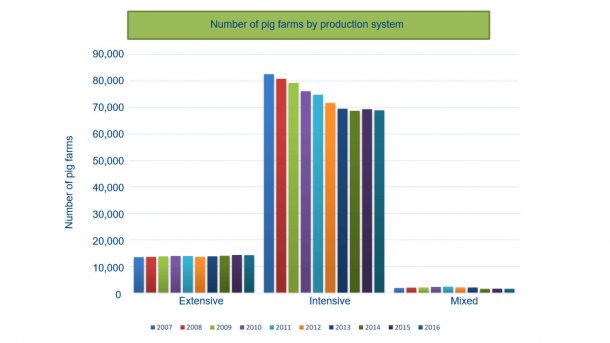 Although the number of farms has fallen, their capacity has risen. In 2007, the number of small farms (less than 4.8 livestock units [LSU]) and of farms pertaining to the first group (capacity of up to 120 LSU) added up 57,201, whilst in 2016 they dropped to 36,521. On the other hand, the farms included in the third and fourth groups (capacity of 120-360 LSU and 360-864 LSU, respectively) went from 8,901 in 2007 to 10,082. The biggest farms are located in Catalonia, Aragon and Castile and León, whilst the smallest ones are located in Extremadura, Andalusia and Galicia. Lastly, the farms pertaining to the Special group (selection and breeding farms, culled breeders grouping centres, artificial insemination centres, studs, gilts' farms and quarantine centres) and the Unknown group have increased, going from 33,639 in 2007 to 39,938 at present. In this case, more than 60% of this kind of farms are located in Galicia.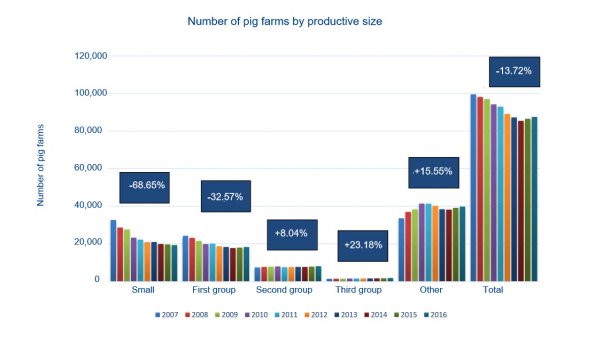 May 2017/ The figures in the pork sector. Main economic indicators in 2016/ MAPAMA/ Spain.
http://www.mapama.gob.es