According to the statistics published by the Chinese Customs Administration, in 2017, the sales of pork products from Spain to China suffered a reduction, dropping by 7.1% in terms of volume and by 11.5% in terms of value with respect to 2016, the total figures being 372,985 tonnes with a value of USD648.6 million (€574.2 million). The main reason was the rise in production in China and the drop in prices after an exceptional 2016 in which all the Chinese pork imports (from all origins) reached the record figure of 3,132 million kilos. Nevertheless, the Spanish exports were less affected than those from all origins as a whole, because the total pork imports in China fell by 17% in terms of volume and by 23% in terms of value with respect to the previous year. Therefore, Spain had a better market share in 2017 and reached the first place as meat supplier, beating Germany, Canada and the USA.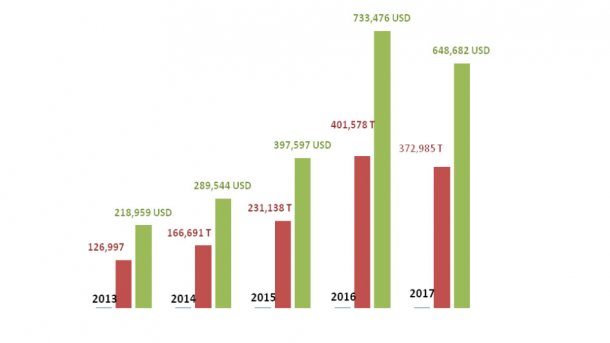 Pork represents 67.7% of the Spanish pig exports, versus the 30% represented by offal (products in which Spain is the fifth supplier, after the USA, Germany, Denmark and Canada). If we consider the sum of pork plus offal, Spain is the second supplier, behind the USA, and ahead of Germany for the first time. This superiority of pork over offal is a differential trait of the Spanish exports versus the other great exporters (especially the USA and Denmark), in which offal are dominant.
The frozen pork exports reached USD439.8 million and 237,513 tonnes (15.5% less than the previous year), offal USD198.3 million and 125,458 tonnes (12% more than in 2016); pork fat USD8.3 million and 9,913 tonnes (it dropped by a third), and cured ham: only €2.2 million and 96 tonnes. So, the reduction in weight affected pork and fat especially, whilst offal increased, and cured ham still represents symbolic figures.
Thursday, February 15th, 2018/ Foreign News/ MAPAMA.
http://www.mapama.gob.es