AHDB Pork has published the InterPIG 2017 report on its webpage. This report, that is published annually, analyses the costs of pig production in selected countries. It is a joint project that involves organisations in 17 countries.
According to the latest data, in 2017 the average cost of pig production in the EU was €1.55/kg, slightly below the cost in 2016 (€1.56/kg) and much below the €1.85€/kg in 2013.
The lowest production costs were the ones in USA, that were below €1.00 (€0.98/kg, 7% less than in 2016), followed by the Brazilian state of Mato Grosso, where the costs were €1.05/kg.
In the EU, Denmark and Spain are the countries with the lowest production costs (€1.35 and €1.37/kg, respectively), whilst Italy had the highest costs, with €1.88/kg.
Although the production costs have dropped in most of the countries, in Italy, Ireland, Germany and the UK they increased by 3%, 2%, 2% and 1%, respectively with respect to 2016.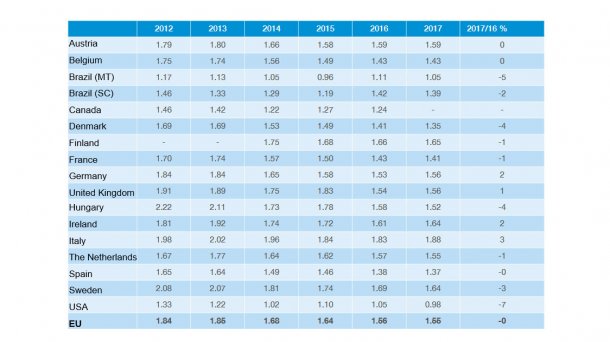 November 2018/ AHDB Pork/ UK.
https://pork.ahdb.org.uk