In 2018, Germany exported 892,000 tonnes of pork, establishing itself as the main European exporter, with 23% of the total share, followed closely by Spain, that exported 870,000 tonnes. The third exporter in terms of volume was Denmark (586,000 tonnes), followed by The Netherlands (480,000 tonnes), Poland (253,000 tonnes) and France (232,000 tonnes).
If we speak in terms of value, Spain stands out with pork exports worth €1,720 million, followed by Germany (€1,380 million).
Regarding the main destination (China, with a total of 1,351,416 tonnes), Germany was its main European supplier, with 27% of the share, followed by Spain (24%), Denmark (17%), The Netherlands (14%) and France (8%).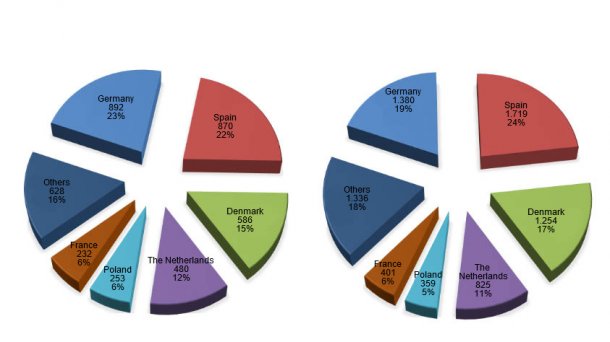 Monday, March 4th, 2019/ Pig333 editorial office from data by the European Commission.