According to the latest data provided by Eurostat regarding pork production in the first half of 2019, the EU has produced a total of 12.52 million tonnes: a drop by 1.4% with respect to the same period in 2018.
Although it has experienced a drop by 3.7% with respect to the same period in 2018, Germany is the main producer, with 2.58 Mt, followed by Spain, with a production of 2.38 Mt and an increase by 2.2%. They are followed by France, with 1.10 Mt (-0.2%) and Poland, with 1.0 Mt (-4.2%).
We must highlight the important decreases in production reported by Denmark (-7.1%), Romania (-4.8%) and Poland (-4.2%), whilst on the other hand we can see increases by 11.3% in Lithuania and by 9.3% in Bulgaria.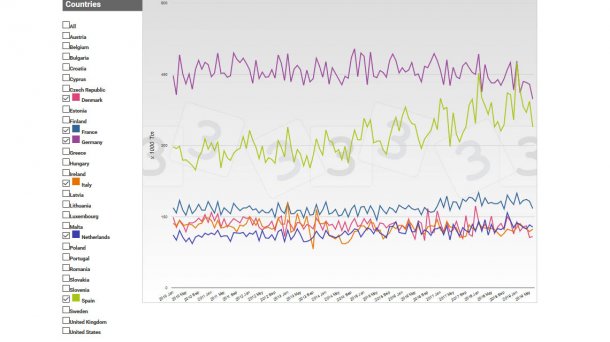 In our startistics section you will find the pork production updated data.
Thursday, September 26th, 2019/ 333's editorial office from data by Eurostat.