The surveillance system of the Directorate of Animal Health was implemented following a clinical picture of diarrhea, vomiting and dehydration that resulted in the death of piglets less than 15 days old at different farms.
Samples were sent to the Center for animal diseases of the National Veterinary Services Laboratory in the United States of America in order to confirm by real-time RT-PCR, isolation and sequencing the causal agent of porcine epidemic diarrhea (PED).
On 21 March 2014, in a preliminary report, the USDA confirmed by real-time RT-PCR and sequencing that samples submitted were similar to the porcine epidemic diarrhea virus reported in the United States of America.
The disease has been reported in the provinces of Santiago, Santiago Rodríguez, Peravia, La Vega, Salcedo and Distrito Nacional.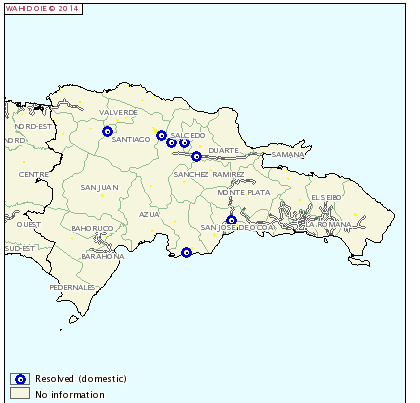 Friday June 13, 2014/ OIE.
http://www.oie.int