The OIE has published a report on cases of PEDv in Canada from the information submitted by Dr Martine Dubuc, from the Canadian Food Inspection Agency (CFIA).
Canada advised the OIE on 5 February 2014 that Canada was experiencing cases of PED. Canada has so far experienced 4 outbreaks (of which 2 clusters) of PEDv in 4 provinces with a total of 58 farms affected. The first suspected case of PED in Canada was reported at a hog farm in south-western Ontario on 22 January 2014, which was confirmed by the CFIA on 24 January 2014. The breakdown of the 58 outbreaks of PED on swine farms are 54 in Ontario, one confirmed outbreak each Prince Edward Island (PEI) and Quebec and two outbreaks in Manitoba.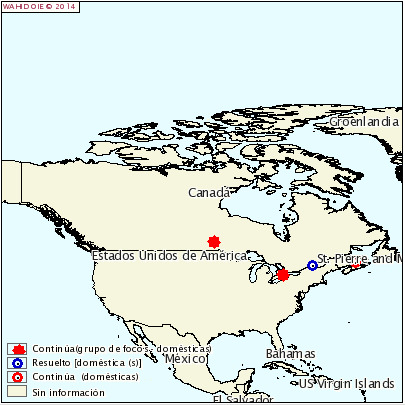 The latest cases were reported in Ontario on 22 April 2014. Outbreak information included in this report was provided to the CFIA by provincial animal health authorities. Clinical signs observed include diarrhea, vomiting, anorexia; they were more severe in younger pigs. Mortality was also observed in young piglets. Sequencing of the PEDv strain from cases on farms in Canada has confirmed that they are similar to the strains circulating in the United States of America.
Canada continues to implement control and prevention measures to reduce the risk of spread of this disease. These include the implementation of strict biosecurity measures at the farm, cleaning and disinfection of trucks, and enhanced controls at the border. In addition, Canada continues to collect and integrate epidemiological information to better understand the risk factors for the introduction and spread of this virus.The disease is now reportable in some provinces, including Alberta, Manitoba and Quebec.
Monday April 28, 2014/ OIE.
http://www.oie.int