According to the latest report issued by the OIE, there are already 8 cases of African swine fever confirmed in wild boar. However, the information updated today by the Belgium Federal Agency for the Safety of the Food Chain (FASFC) reports 9 cases.
According to the OIE, the last outbreaks have been located in Buzenol, Etalle, where 3 cases have been found, 2 of which were dead animals. It is the same area where the first cases were confirmed.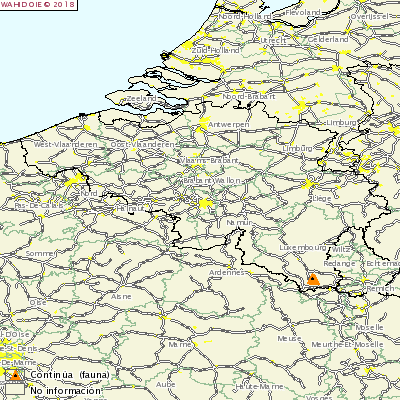 After the confirmation of this new cases of ASF, the Federal Agency for the Safety of the Food Chain (FASFC) and the Public Service of Wallonia (PSW) have agreed on, in the last days and as a matter of urgency, to implement coordinated measures. Strict control measures have been implemented in Wallonia.
The adopted measures will affect a perimeter of 63,000 hectares, as defined by the FAFS and the PSW, in accordance with the European Commission. The Order provides the following measures, applicable until October 14th included:
Prohibition of all kinds of hunting to avoid the spreading of the wild boar populations. This measure, together with the active search for wild boar corpses, will allow to delimit the infected territory precisely.
Prohibition of feeding hunting species to avoid any risk of concentration of the population and, therefore, a greater contamination.
The agents in the affected areas started the corpse search procedure. This task will be assessed on September 26th.
The implemented procedure clearly establishes the modus operandi during the discovery of a wild boar. Only the agents of the Nature and Forests Department are authorised to remove the corpses. There is a team specially dedicated to the transport to the collection centres.
The pig farms located in or near the area in question have received instructions to avoid the contact with the virus.
Any discovery of a wild boar corpse by the citizens shall be immmediately notified to the Public Service of Wallonia call centre (1718), indicating the exact location and avoiding any kind of contact with the corpse. It is a collective and civic responsibility. Every wild boar found dead must be declared to the competent authorities.
Temporary prohibition of circulating through the forests
Until October 14th included, it is forbidden to circulate through roads in forests. Some exceptions are allowed within the limits of the procedures neeeded for the treatment of African swine fever and in accordance with the recommended biosecurity measures, and they apply to the following groups of people:
Nature and Forests Department staff;
Environmental and Agricultural Studies Department staff;
The holders of a hunting license and their security guards;
The owners;
The Walloon wild fauna health surveillance network staff;
The sanitary police services staff;
The local and federal police staff.
Wednesday, September 19th, 2018/ Walloon Government/ Belgium.
http://www.wallonie.be