Fifteen representatives of U.S. Meat Export Federation (USMEF) member organizations received an in-depth look at the red meat industry in South Korea, China and Hong Kong last week as part of the 2012 USMEF Market Education Program. Participants came from the United Soybean Board, the National Pork Board and pork, beef, corn and soybean producer organizations from Illinois, Iowa, Minnesota, and Nebraska.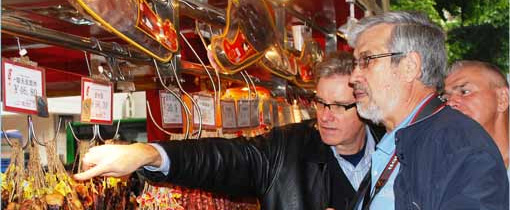 USMEF Asia-Pacific VP Joel Haggard (left) guides soybean producers Bill Raben (center) and Bob Derr through a wet market in Guangzhou, China.
In Korea, these pork, beef, corn and soybean producers got a firsthand look at USMEF marketing efforts in the retail, foodservice, processing and distribution sectors. They also had an opportunity to learn more about the benefits of the Korea-U.S. Free Trade Agreement, which took effect March 15.

Roger Knoblock, a hog producer and cattle feeder from Lester, Iowa, participated on behalf of the Iowa Corn Promotion Board. He was pleased with the level of success U.S. pork and beef have achieved in Korea, but recognizes that competition in the market is formidable. According to the Global Trade Atlas, the U.S. is one of 19 countries exporting pork to South Korea so far this year.

"Right now this market is performing very well, even with all the competition we face here," Knoblock said. "But the promotional work that's being done in retail stores and restaurants – I'm very impressed. The USMEF-Korea staff has done an excellent job, and I don't know what we would do without them."

Chris Abbott, a cattle rancher from Cherry County, Neb., and a member of the Nebraska Beef Council board of directors, echoed these sentiments.

"We need to hustle just to keep up with our competitors when it comes to marketing and promotion," Abbott said. "And to come over here and see the work that USMEF is doing, that's been a real eye-opener for me."

The group ended its time in Korea with a dinner at Goo STK Itaewon, a popular restaurant in Seoul that features dry-aged U.S. steaks.

"I started using dry-aged U.S. beef at a time when everyone in Korea was against that idea," said restaurant owner Ian Kim. "Now, interest in dry-aging is really taking off and I'm very happy to share my experience with others here in Korea."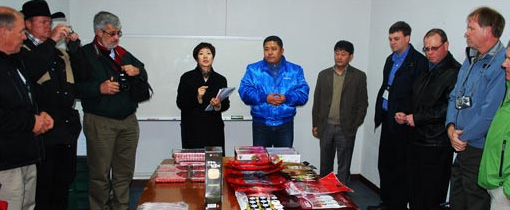 Producers view a wide variety of meat products imported through a Hanjung Food cold storage facility in South Korea
From Korea, team members flew to Guangzhou, China, a major commercial center in southern China, where they visited a local wet market and saw U.S. pork featured in the city's retail and restaurant sectors.

"The restaurants and vendors who feature U.S. pork appear to be doing a great job with the product," said Roy Henry, a pork producer from Longford, Kan., and member of the National Pork Board. "Even though China is the world's biggest pork producer, there are still great opportunities here because of the tremendous number of consumers. This is a particularly good market for some of our underutilized cuts and variety meats that aren't needed at home, and that makes for a great partnership if we can make it work."

"It's pretty obvious down here (in southern China), that pork is king," added Dave Harrington, a pork producer from St. Paul, Neb., and past president of the Nebraska pork Producers Association. "There's a tremendous amount of pork consumed in this area, and as the consumers' lifestyle improves I think it will open up opportunities for higher-quality cuts in addition to the items we've traditionally exported here."

The group visited other foodservice and retail outlets in Guangzhou before moving on to Shenzhen City and Hong Kong.

With nearly 50 countries battling for market share, Hong Kong is one of the most fiercely competitive beef and pork markets in the world. So what makes this enclave of 7 million people such an attractive destination for red meat from around the globe?

"The biggest factor is that Hong Kong does not have the burdensome duties we face in some other markets, and there are very few restrictive sanitary and phytosanitary barriers," said Joel Haggard, USMEF senior vice-president for the Asia-Pacific region. "There's not much livestock production in Hong Kong, so meat from all countries is allowed access at zero duty."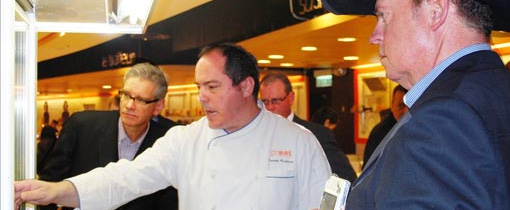 Timothy Broderick, executive chef at the Great Food Hall in Hong Kong, discusses meat selections with Joel Haggard (left), USMEF Senior VP for the Asia Pacific region, Nebraska Beef Council Member Chris Abbott (right) and Illinois Soybean Association board member Mark Sprague (background)
On a supermarket visit in Hong Kong, participants were able to observe a sampling demonstration of all-natural U.S. pork. The importer cooperating with USMEF on the in-store demonstration explained why U.S. pork and beef perform very well in this market.

"Product stability is really important to our clients, and the quality of U.S. meat is very stable and consistent," said Shyrell Hui, marketing manager for Million Gourmet Limited. "USMEF's marketing efforts in Hong Kong have also had a very positive effect. Because of this marketing, the marbling, flavor and texture of U.S. meat are well-known and the products have an excellent reputation."

While in Hong Kong, producers had several opportunities to see how U.S. beef and pork are marketed in the wholesale, retail and foodservice sectors and toured a terminal at the Hong Kong seaport, which is one of the world's busiest. They also received a market overview from Erich Kuss, director of the Agricultural Trade Office for the U.S. Consulate General in Hong Kong. Kuss provided insights on the favorable regulatory and business climate enjoyed by U.S. products in this market, but noted that U.S. beef imports are still limited to boneless muscle cuts from cattle less than 30 months of age. He offered encouraging comments with regard to change in this policy in the near future, however, now that the Korea-U.S. FTA is in effect and U.S. negotiators have made progress on other obstacles that have hampered U.S. beef trade in Asia.

The soybean industry was especially well-represented in this year's USMEF Market Education Program, with representatives of the United Soybean Board and several state soybean organizations participating.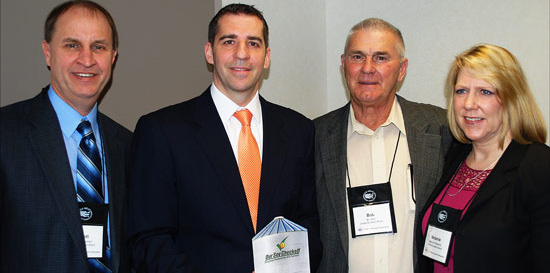 Agricultural attaché Erich Kuss (second from left) with Minnesota soybean producer and USMEF Executive Committee member Scott Singlestad (left), Wisconsin soybean producer and United Soybean Board member Bob Derr and Melanie Fitzpatrick of the United Soybean Board.
"Every time I look in a meat case here that offers U.S. pork and beef, I see my soybeans," said Ron Pavelka, a soybean and corn farmer from Glenvil, Neb., who also manages a cow-calf herd and serves on the Nebraska Soybean Board. "Virtually all of our soybean meal goes to feed livestock, so we're all really in the same business. It's great to see all the behind-the-scenes efforts that go on here on the producers' behalf."

Bill Raben, a soybean and corn grower from Ridgway, Ill., who serves on the Illinois Soybean Association board of directors, agreed.

"It's been an exceptionally educational trip for me - one that's truly opened my eyes," he said. "Although I don't raise livestock, I grow the grain that's fed to hogs and cattle and a healthy animal agriculture sector is essential to the success of the soybean industry. I'm pleased to see that we are making great strides with U.S. pork in both Hong Kong and China, and with the beef we ship to Hong Kong. If we can just get past the beef restrictions in China, we'll have even more opportunities in this region."

"Hong Kong is such a laboratory for free and open meat trade," Haggard said. "It's great to bring producers here to observe that, and to see how our products stack up in this very competitive environment."