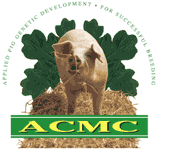 The recent sub-zero temperatures pose a significant challenge for biosecurity on pig units. Unfortunately the survival of major pathogens such as dysentery is enhanced in cold weather, warns Paul Thompson, veterinary consultant to pig-breeding company ACMC Ltd.

He advises producers to be aware that lorries returning from abattoirs may not always have been able to clean and disinfect as efficiently as in summer. Extra care should be taken to avoid cross-contamination on loading ramps so additional disinfectant should be applied on and around the ramp in cold weather.

Many disinfectant dips have been frozen. Virkon S, for example, freezes around 0 ºC. Monopropylene glycol added at 10 per cent can reduce the freezing point to -5ºC and is available in Virkon S fog enhancer (as used in poultry houses). Dips will not last as long in freezing conditions and need replacing after three days. Pig producers using these solutions should be aware they can be both very palatable and highly toxic to wildlife and other animals, especially cats, so use should be restricted to situations such as foot-dips where access can be excluded.
ACMC Ltd