PRODUMIX, international reference in piglet nutritional solutions, successfully participated in the biggest sectorial event worldwide, Eurotier 2012, held in Hanover, Germany, from 13th to 16th of November.
It is remarkable the great affluence of visitors to the PRODUMIX booth and their high professional profile.
Among them, Chinese professionals had an outstanding presence, and their good knowledge of PRODUMIX brand is a proof of the expansion the company is gaining in the Asiatic giant.
In addition to many new contacts made, PRODUMIX took the opportunity to strengthen the relationship with distributors and customers.
PRODUMIX sent a large delegation of representative members from of the Management, International and Technical Departments, who were very active throughout the entire event.
With this presence, PRODUMIX moves forward in its internationalization process and strengthen its presence in the most professional markets of swine production.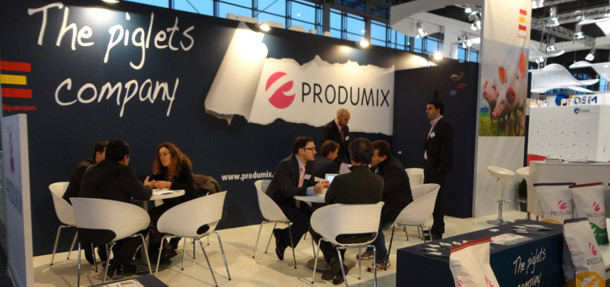 November 21, 2012 - Produmix