Magapor, S.L. and Bretanha Importação e Exportação recently signed an important and ambitious cooperation agreement with the aim of increasing the presence of the Spanish brand in Brazil, its market share and the reach of its products and solutions for pig reproduction.
The cooperation between Magapor and Bretanha started in 2011 with the commercialization of equipment and extenders. The firms joined know-how, technical knowledge and business experience with the objective of improving and expanding the Brazilian pork production industry. This alliance strengthened the two brands and allowed them to achieve higher objectives in the mid-term.
The agreement was signed during the visit of Bretanha to Magapor's headquarters in Ejea de los Caballeros and consolidated the relation of the two firms as business partners in the trade of products and solutions for swine reproduction, uniting service, technology and innovation as driving forces for the growth and industrialization of the Brazilian pig production sector.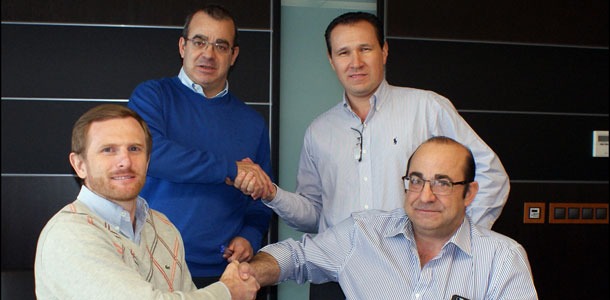 In the picture, from left to right, Rafael Scheibler (Bretanha), Jesús Mena (Magapor), Pedro Ivo (Bretanha) and Juan José Mena (Magapor).
February 19, 2015 - Magapor