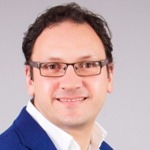 Lallemand Animal Nutrition is pleased to announce the appointment of David Saornil as new Swine Product Manager.
David is a Veterinarian with a strong experience of international swine production. His technical expertise combined to international market knowledge will be instrumental to support Lallemand Animal Nutrition development on the international swine arena. His contribution to technical support, in Europe as well as in fast-growing markets such as South East Asia and Latin America will be a great asset for our partners.
David Saornil is a veterinarian specialized in animal production and economy together with medicine and health. He has spent most of career evolving within Produmix, a Spanish company involved in the research and development of premixes for piglet nutrition. He moved from regulatory affairs to technical support and marketing, then as Technical Manager, he added the design, management and study of swine trials to his skills. He was then in charge of international business development, setting up a branch in Costa Rica and opening new markets for the company. Since 2013 he was managing both the Export and Technical Departments of the company, setting up the strategies, building and training the team, and supervising the different jobs.
March 26, 2015 - Lallemand