Under the title "Relationship of the probiotics with the intestinal functions of piglets", Lallemand Animal Nutrition organized its first Swine Exchange Forum at the Faculty of Veterinary Science of the University of Zaragoza, in Spain, June 11th. The goal was to explore the role of probiotics in the intestinal functions of pigs, like microbiota regulation, nutrients digestion and the "barrier" function.
For this occasion, the Spanish team has welcomed around 20 clients for a very special working day, combining technical presentations with practical laboratory sessions. It was remarkable how the program made the link between the theoretical lectures and the practical observations.
During the technical session, the importance of the microbiota was highlighted, relating its regulation with very important aspects of health. The role played by probiotics around critical stages of swine production was also defined.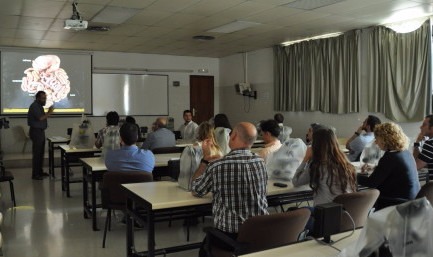 Finally, the attendees had the opportunity to understand the effects of a specific strain of probiotic, the live yeast Saccharomyces cerevisiae var. boulardii CNCM 1079 (LEVUCELL® SB), on different aspects related to intestinal health and piglets performance.
The participants enjoyed the event, praising the quality of its content and the originality of the program.
This event forms part of the company Swine educational program that was launched a few months ago in partnership with Lallemand's Monogastric Centre Of Excellence.
June 24, 2015 - Lallemand