Participants discussed topical issues of pig feeding, keeping, and breeding. Leading Ukrainian and European experts were invited to present innovative feeding technologies and ready business solutions for profitable pork production.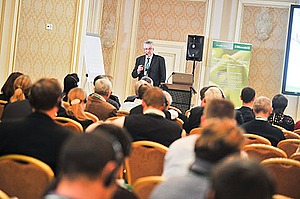 The forum was attended by more than 80 representatives of major pig farms; most of them ranking among Ukraine's top 50 producers of pork.

The forum offered everyone a wonderful opportunity to share knowledge, get professional expert advice, and discuss prospects for pig breeding in Ukraine.
Apart from official events and business meetings, the participants enjoyed the "entertainment part" of the forum that surely satisfied even the most demanding tastes.
The forum was organized by BIOMIN Ukraine with the support of the Ukrainian Association of Pig Breeders. The forum's success showed that this kind of event is very much appreciated by the local industry, so it may well become an annual event.
November 19, 2013 - Biomin