In a fast-moving and ever-changing world, it's a challenging time to graduate and embark on a career. However, an array of attractive and stimulating career paths could be at the fingertips of students from around the world through the Alltech Career Development Program. From Aug. 15 – Sept. 30, Alltech will accept applications for the third annual program from recent graduates of bachelor's or master's degree programs and will screen applicants with a view to commencing work in February 2015.
The program offers exciting opportunities for ten high-calibre university graduates from around the world who wish to work with experts in the fields of science, aquaculture, agriculture, marketing, veterinary science, information technology, business and biotechnology. Alltech aims to develop future leaders in the agricultural industry and values long-term talent development through the Alltech Career Development Program, which launched in 2012. The program will see Alltech invest $1 million over the next year with the objective of recruiting future leaders in agribusiness.
"We are looking for the best and the brightest young graduates," said Dr. Aoife Lyons, director of educational initiatives for Alltech. "Successful applicants will be creative, passionate and eager for challenges in a multinational and multicultural company."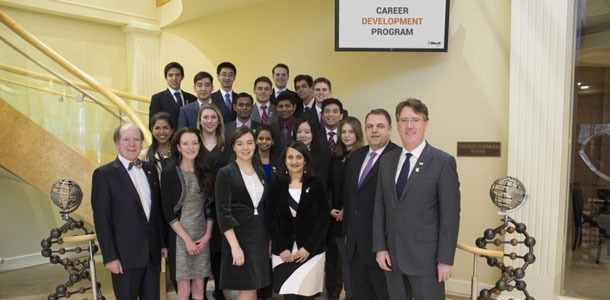 The 12-month, salaried mentorship program will begin with an intensive training period at Alltech's global headquarters in Nicholasville, Kentucky, USA, where graduates will study topics including sustainable energy, communications, marketing and international business. Following this, they will continue training and development while simultaneously managing key company projects in one of the company's global offices.
Altamash Memon of India was accepted into the program last year and has been impressed by the experience.
"After the induction, my interests, strengths and skills were evaluated, and I was assigned to the division where I felt I could make a significant contribution to the next chapter in Alltech's success story – the research and development division of Alltech Crop Science (ACS). In ACS, I am responsible for developing new products in line with the recent advancements and the current requirements in today's agriculture, such as biopesticides, bioinoculants, and more," Memon said. "Every day is a new challenge – a challenge to think big, think differently, and think innovatively. Alltech is a place that truly drives you to your maximum potential, and in the process helps you grow personally and professionally. It's been an exciting opportunity."
Interested graduates are invited to apply during the application window of Aug. 15 – Sept. 30 via the Alltech Career Development Program website.
September 1, 2014 - Alltech