Introduction
Until earlier last year, vesicular disease (VD) in pig populations was considered to be caused by one of the following 4 RNA viruses: Foot and Mouth Disease virus (FMDV, Aftovirus within the Picornaviridae family), Vesicular Stomatitis virus (VSIV, aka VSV, Vesiculovirus within Rhabdoviridae), Vesicular Exanthema of Swine virus (VESV, Vesivirus within Caliciviridae) or Swine Vesicular Disease virus (SVD, Enterovirus within Picornaviridae). For the purpose of this case report, I will refer to these viruses as the "Big 4" VD viruses.
However, sporadic cases around the world (including New Zealand, Italy, USA, Brazil) reported vesicular disease in pig populations proven to be negative for the Big 4 viruses. In some cases Senecavirus A (SVA) was reported in pig populations showing VD and absence of the Big 4 viruses. Such cases were referred as "idiopathic swine vesicular disease", as the causative link between SVA and VD was uncertain.
SVA is a RNA virus belonging to the Picornaviridae family (along with FMDV and SVDV). It was formerly known as Seneca Valley virus. SVA is known in the human literature by its oncolytic properties. In fact, there are ongoing clinical trials with SVA in humans as a cancer therapy option. It is known that SVA can replicate in pigs, cattle and rodents. Recently two clinical diseases were reported associated with SVA in pigs: an epidemic transient neonatal mortality (ETNL) and vesicular disease in pigs.
The purpose of this study is to describe the clinical onset of VD associated with identification of SVA.
Case
The farm: An 8,000 sows farrow to finish operation, all located in one farm in the Southeast region of Brazil, with multiple naturally ventilated barns. Replacement gilts were produced internally. Semen was produced at an external boar stud and delivered to this farm 3 times per week (Monday, Wednesday, Friday). Farm personnel were 100% dedicated to this farm and supplies/equipment were not shared with other farms. Overall, the farm had great biosecurity practices (decontamination-and-downtime room, shower in-shower out, relatively low frequency of pig transport movements, pig transport vehicles are washed, disinfected chemically and required 24h downtime before loading pigs, low pig density region). This farm did not have history of VD in its 10 years of existence. It was PRRSv-negative, Mycoplasma hyopneumoniae-positive. Finishing barns had pens of 30 pigs. Nurseries had 60 pigs per pen.
Clinical disease onset:
Days 1-3: Farm personnel noticed that finishing pigs were less active than usual, but did not report anything to the farm Veterinarian. No lesion or lameness were observed or reported.
Days 4-10: about 25% of pigs in the finishing and 15% of nursery were lame. Farm veterinarian was contacted on day 9, visited the farm on day 10 thinking about Mycoplasma hyosynoviae. At the farm visit, a close clinical inspection was performed in all pig ages. Veterinarian spotted minor coronary band, interdigital and foot pad lesions in most of the lame pigs (>90% of lame pigs) of finishing barns and some lame pigs in the nursery barn (~ 30%).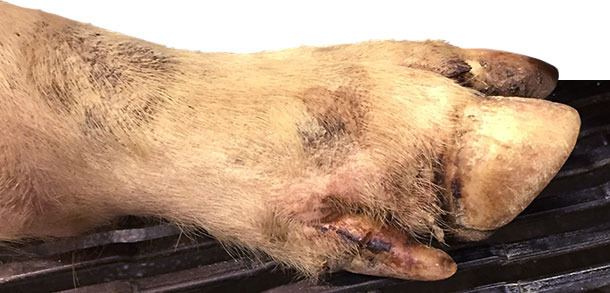 Also found 0.5 to 1.5 cm of diameter vesicles in finishing pig snouts of about 1% of pigs (approximately one pig every ~ 3 pens). Only 2 snout vesicles were spotted in the nursery pigs.

The herd veterinarian called the official state veterinarian and opened a foreign animal disease investigation. Vesicular fluids and swabs from coronary bands from selected pigs were submitted for official veterinary diagnostic laboratory and returned negative for the Big 4 viruses after 3 days. All samples tested positive for SVA RNA by RT-PCR. Serologic test was not available to screen the population at that time (Fall 2014).
Meanwhile, pigs continued to be observed daily for development and/or recovery of VD-associated clinical signs. No lameness or VD was observed in the breeding herd population (sows). Neonatal piglets had a transient spike in mortality for about 7 days. Mortality returned to baseline from a peak of 50% in the affected age group and no VD was observed in sows or piglets.
In the nursery and finishing pigs, new cases of lameness and minor VD continued to flare up at an incidence rate of about 5% per week for as long as 4 months after initial clinical disease onset.
When pigs started showing lameness, they were marked with color markers and monitored for clinical signs on a daily basis. VD was seen in most pigs lame – either at day 0 of lameness or after 1-2 days. VD lesions were completely healed within 7-10 days. There was no significant change in pig mortality in the growing phase.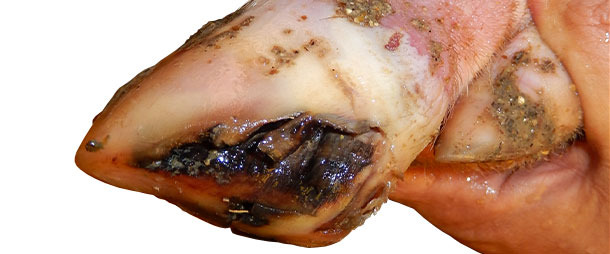 Between 4 and 5 months after initial disease onset, incidence of VD-like lesions in pigs decreased to near-zero. At this point, farm is 6 months without VD or increased lameness cases. Treatment for affected pigs depended on the severity of VD lesions. Pigs with severe lesions were given basic foot care to help recovering. For individual pigs with more severe lesions, injectable antibiotic + anti-inflammatory product was given to avoid complications due to secondary bacterial infections.

Final comments
Recently, a joint study between Iowa State University (ISU) and the United States Department of Agriculture (USDA) was reported at the ISU Swine Disease Conference in Ames, Iowa, USA, showing evidence of VD reproduced by SVA isolates from commercial pigs with clinical VD. Therefore, SVA from now on can be considered as one of the etiologic agents of VD in pigs, along with the Big 4 (now Big 5).
Even though VD caused by SVA is minor-to-mild and transient compared to FMDv, initial development of VD lesions is clinical undistinguishable from FMDv. Diagnostic investigation must be conducted by official veterinarians to rule out FMDv and no assumptions must be made that "this is another SVA case" when it is known that SVA is circulating and causing VD in nearby pig populations.
In this particular case, the source of virus introduction was not confirmed. It was known that other farms in the region had reported SVA-associated epidemic transient neonatal mortality and/or VD lesions (at least 8 farms within a 10 km - radius). Speculations include mosquitoes (other Picornaviruses are known to be vector-borne), aerosols, feed ingredient, vaccine and pig transport vehicles.
This case was a great example that unexpected pathogens can emerge at any time. Biosecurity practices should always be reviewed and strictly implemented on a daily (hourly) basis.