The farmer operated a 500-sow breeder and nursery and finisher farm system, in a region in south eastern Asia with many other pig farms nearby. The finisher-fattening units were about 10 km distant to the breeder-nursery site and were supplied with nursery pigs in batches to the site. The finisher site had various older sheds to house these incoming pigs from 30 to 100 kg bodyweight.
The farm had a range of on-going health problems, including the immune-suppressive viruses, classical swine fever and PRRS, which were partly controlled by local vaccination programs. The farm was located in a region that also had numerous infections with foot-and-mouth disease (FMD) virus in pig farms and other livestock, such as neighborhood cattle and wandering goats. FMD was most common during the rainy season, when there were more movements of cattle through the region. The farmer had previously used a local FMD vaccination program.
Over a period of several weeks during one rainy season, the farmer noticed different problems.
On the breeder-nursery site, around 20 % of the breeder sows became lethargic and had a poor appetite. Many of these sows had mucous nasal discharges, some were sneezing and had lesions on their snout. The affected sows lost condition, and produced lower amounts of milk, but few deaths were noted.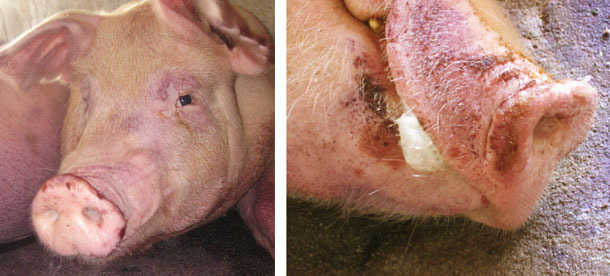 Snout lesions and nasal discharge in sows.
On the finisher sites, the farmer noticed that the growing pigs in all the farm sheds had become dull and lame. Close inspection indicated that nearly all of the pigs showed variable degrees of lameness and were lying down most of the time. When the pigs were forced to rise, they squealed loudly, hobbled about a little and did not move around. The pigs found it difficult to get to the feeders, had a much lower feed intake than normal and were losing condition. Some of the pigs appeared to be slobbering with excess saliva. When some pigs were caught and examined, dark bloody and ulcerative lesions were seen on the feet. In particular, these lesions were noted on the sides of their feet, just above the hoof, and sometimes in between the claws. These lesions were clearer when the feet are washed. In some animals, the foot lesions seemed more chronic and were healing.

Lameness and foot lesions in finisher pigs.
Key features
Pig farm in region with high level of FMD infections.
Snout lesions on older pigs.
Lameness in high proportion of pigs.
Lesions on side of feet.
Comments
The sows have moderate snout lesions and nasal irritation due to foot-and-mouth disease (FMD) in pigs. This syndrome, rather than severe foot or mouth lesions, is generally seen in sows or other animals that only have partial immunity. The sows may have some immunity from a vaccination program for FMD. However, there is inevitably some variation in quality of FMD vaccines. Also, vaccine storage and usage may not be optimal on all farms, leading to some sows with weaker immunity. Also, various strains or serotypes of FMD occur, which may lead to little or no cross-protection if the FMD vaccine strain is a different strain of the virus.
Breeding sows will tend to have some innate resistance to FMD and may only show milder lesions, even in the face of a challenge from a high dose of FMD. High levels of FMD may circulate in regions with many infected farms, especially in certain seasons, such as rainy seasons when many infected animals may move between regions. These cattle and infected pigs can amplify the virus and have huge amounts of virus in their expired breath. This can lead to FMD virus aerosols appearing over many pig farms and spreading to outbreaks in neighborhood farms.
The history and clinical signs in the finisher sheds are also suggestive of foot and mouth disease (FMD) arriving onto a relatively clean pig farm site. FMD is characterized by a high fever and depression just prior to the onset of pronounced and severe lameness in groups of pigs. A highly noticeable feature of FMD in these situations is always the very high number of pigs affected in the group – it may approach 100 %. The lameness is due to specific feet vesicle lesions, which appear as blanched, slightly raised areas on the edges of the hoofs. These expand and rupture in a short space of time, which leaves feet ulcers with shreds of torn tissue around the margin. These vesicle or blister lesions may also be seen on the snout, tongue and gums of some pigs. There are many serotypes of the FMD virus and even in endemic areas, on farms which may even use vaccination, other new serotypes can arrive and cause this type of major new outbreak. Because of the rapid spread of this disease and its importance in international trade, it is important to get full information in all situations, such as: What recent farmed animal movements on or off the farm have occurred? are other pigs on the farm affected? Do any neighboring farms have similar problems, which may include goats, cattle or sheep?
FMD is highly contagious and is on the OIE list A of international trade. Any suspicion of FMD should lead to the farmer calling the Government authorities, who may stop all movement of people and animals on and off the farm. Samples of vesicle fluid, other tissues and blood samples must be sent to designated laboratories in secure packaging for virus isolation and identification.