Mariana Kikuti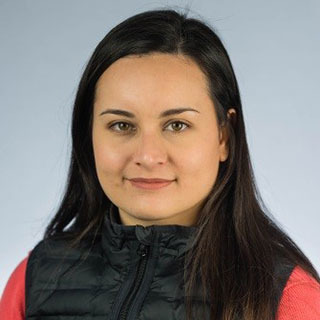 University of Minnesota. United States
Mariana graduated in Veterinary Medicine at the Federal University of Paraná, Brazil, in 2010. Afterwards she was a fellow of the Veterinary Medicine Residency Program in Zoonoses and Public Health at Universidade Estadual Paulista Julio de Mesquita Filho, also in Brazil, where she performed research and laboratory diagnosis of zoonotic diseases such as rabies, leptospirosis, leishmaniasis, toxoplasmosis, Chagas disease and brucellosis in animals.
She obtained her masters in epidemiology at the Instituto de Saúde Coletiva at the Federal University of Bahia, Brazil, in 2014 and her PhD at the same institution in 2018. Her master's dissertation focused on spatial distribution of dengue incidence in an urban slum, in which she modeled dengue risk according to social determinants of health using Poisson log-normal and conditional auto-regressive (CAR) models using Maptools and INLA packages in the R software. She also has experience with disease mapping using tools such as Quantum GIS and ArcGIS. Her work during the PhD involved outbreak investigations of emerging arboviral diseases and laboratory diagnosis tests evaluations.
She is currently working in the University of Minnesota spearheading the PRRSv sequence analysis from the Morrison Swine Health Monitoring Project PRRSv sequence database. More specifically she is focusing on detecting potential emerging new PRRSv strains in the US.
Updated CV 09-Jan-2019
Articles
Home

Article

Do outbreaks in the same farm have a similar time-to-stability? What factors can affect time-to-stability?
PRRS time-to-stability variability in Midwestern US sow herds
Home

Article

71% of the farms reporting a PRRS break today will report a break within the following two years. What makes them more susceptible?
Porcine Reproductive and Respiratory Syndrome break recurrence