Emilio A. Martinez García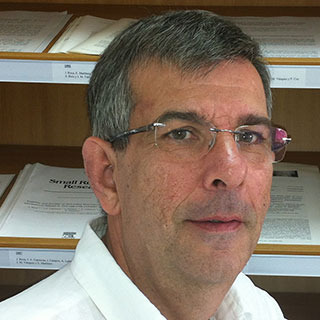 University of Murcia. Spain
He was born in Madrid in 1956. He graduated in Veterinary Medicine/Science from the Universidad Complutense de Madrid (1980) and obtained his PhD in Veterinary Medicine/Science from the University of Murcia (1984). In 1994 he obtained the Animal Pathology (Reproduction and Obstetrics) professorship at the University of Murcia, and he holds this post up to date. His is the Researcher in Charge of the 'Animal Reproduction' research group at this university since its creation in 1987. He is a Diplomate from the European College of Animal Reproduction (ECAR) and from the European College of Porcine Health Management (ECPHM). He is an elected member of several national and international scientific societies. Since 2012 he is the President of the Spanish Animal Reproduction Association. He develops his investigations in the field of Animal Reproduction Biotechnology. He is the author of more than 150 scientific papers published in very prestigious international journals in this field. He has also presented more than 200 lectures in international congresses and has directed more than 40 research projects and contracts at a national and international level, and 20 PhD theses. Since 2007 he is Editor-Asssociate of the investigation journal Reproduction in Domestic Animals. He is the author of two patents published in US, Canada, Australia and 12 EU countries and that have been licensed to several American and European companies. One of the patents was awarded, by the Education and Culture regional ministry of the autonomous community of Murcia, the first prize i-patentes 2006. In 2007, the research group that he leads obtained the mention as an Excellence Group by Autonomous Comunity of Murcia. He is Full Member of the Royal Academy of Medicine and Surgery of Murcia and founder Academic of the Academy of Veterinary Sciences of Murcia.
Updated CV 21-Mar-2014
Articles
Article

The procedure is simple, quick and well tolerated by the recipient sows.
Non-surgical pig embryo transfer is a reality
Article

Despite its scarce use in commercial artificial insemination programs (used only in 1% of all inseminated sows) nowadays no one questions the sanitary, economic, and productive advantages of cryogenically preserved semen with respect to fresh or refrigerated semen.
The present and future of cryogenically preserved of swine semen
Article

When fresh or refrigerated semen is used in countryside conditions, the number of spermatozoa and the volume of the dose using PCI can diminish
New fresh-semen artificial insemination techniques in the swine specie