Alba Cerisuelo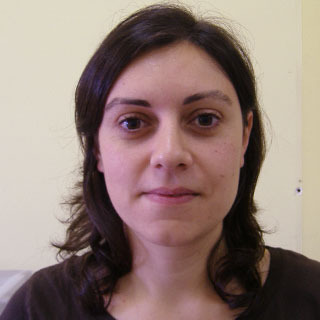 CITA-IVIA. Spain
Alba Cerisuelo was born in Vila-real (Castelló) in 1979. She graduated from the Veterinary Science Faculty of the Universitat Autònoma de Barcelona in 2002. Later, she continued her masters science and doctorate studies at the same university. She carried on her PhD studies at the Animal and Feed Science Department of the Veterinary Faculty under the supervision of Dr. Maria Dolores Baucells and Dr. Roser Sala. Her thesis entitled "Influence of maternal feed allowance during mid-gestation on progeny muscle fibre development and sow performance over three consecutive cycles" was defended in 2007 at the Universitat Autònoma de Barcelona and dealt with the relation between sow nutrition, sow body reserves and muscle development of the progeny.
During her doctoral period, she was granted two fellowships to join the Animal Nutrition group at the University of Missouri (Columbia, Missouri), leaded by Dr. Gary Allee in 2004 and the Department of Muscle biology and Growth at the Research Institute for the Biology of Farm Animals (Dumerstorf, Germany) in 2005, respectively.
From November 2007 – present she has been working at the Centro de Investigación y Tecnología Animal of the Instituto Valenciano de Investigaciones Agrarias (CITA- IVIA), where she is developing her research on animal nutrition and also on the relation between animal nutrition and environmental issues (gas pollutants), especially in pigs. During her stay at CITA she has been granted a post-doctoral fellowship to join the group led by Dr. Jean.Yves Dourmad at the Department of Systémes d'Èlevage Nutrition Animale et Humaine of the Institut National de la Recherche Agronomique (INRA, Rennes, France) and the Research Unit of Environmental management and biological treatment of wastes leaded by Dr. José Martínez at Cemagref (Rennes, France) in 2010.
Throughout her career, Dr. Cerisuelo has taken part in diverse research projects both privately and publically funded. The results of her research have been also published in national and international journals and also at several national and international congresses.
Updated CV 17-Jun-2011
Articles
Home

Article

Fiber is being "rediscovered" due to its multiple benefits: physiological, on intestinal health and for the environment.
New horizons for fibre in pig nutrition
Home

Article

In practice there aren't any direct methods to measure lean reserves in the field. On an experimental level, generally, ultrasound machines are used to measure the loin thickness (LT) as an indicator of lean reserves (just as the dorsal fat measure, DFM, is taken as an indicator of fat reserves)
The role of lean tissue in handling bodily reserves