1) Which are the main diseases that wild boars can transmit to domestic pigs?
Wild boars and pigs are the same species, since the boar is the ancestor of our domestic pig. Consequently, all the pathogens that affect wild boar are transmissible to pigs, and vice versa. The main problems? It depends on the region we are talking about. In Central and Eastern Europe, the disease affecting both types of animals, that has caused most problems in recent decades is possibly classical swine fever (CSF); When CSF outbreaks are identified in wild boars their appearance forces the mandatory implementation of oral vaccination campaigns. Fortunately, these interventions are being successful. But we are now confronted with two even more pressing problems: African swine fever (ASF) and tuberculosis (TB). The first one is expanding through the Baltic countries, Poland, Russia, Belarus and Ukraine. More recently, it has reached Romania and the Czech Republic, and will likely continue to generate concern in other countries of the continent. Tuberculosis is starting to affect wild boars and pigs in many European countries, from the United Kingdom, the Iberian Peninsula, Poland and France to Greece. It is important to emphasize on the fact that unfortunately, pigs and wild boars share all their diseases.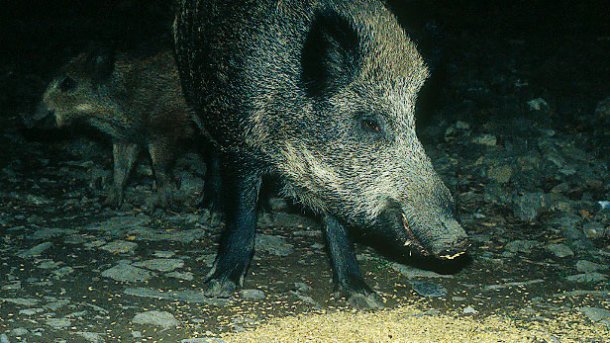 2) What is the prevalence of these diseases in the wild boar population?
Prevalence depends on the biology of the pathogen (virus, bacteria or parasite) that causes the disease and on the epidemiological situation. In any case, it is not stable, but fluctuates in space and time depending on wild boar populations and environmental factors such as habitat characteristics and water and food availability and distribution. Let us consider, for example, ASF, TB and trichinellosis. ASF prevalence is usually low, lower than 3%, which makes it necessary to sample a large number of wild boars in order to detect or rule out its presence with certainty. Therefore, special attention is paid to the necropsies of wild boars found dead or dying, where the probability of detecting the virus is much higher. The same thing applies to trichinellosis, whose prevalence is extremely low. Even so, new cases are detected every year and, since the only way to break its cycle is to dispose of the infected carcasses, it is crucial to perform a proper diagnosis on every carcass and to remove every infested dead animal. It is different for tuberculosis. In endemic areas of the southwest of the Iberian Peninsula prevalence can be very high, reaching even rates above 60%, that can even lead to high mortality amongst wild boars after developing widespread lesions.
3) Which are their main routes of transmission? Is the risk of transmission only significant for pigs in outdoor production systems?
Again, that depends on the disease. Among wild boar, as among pigs, transmission can occur through direct contact, including consumption of carrion and hunting remains. Transmission from wild boar to pigs is usually indirect, for example by sharing water points or feeders. In situations where pigs live outdoors or with low biosecurity, wild boars may be attracted to the farm by the presence of sows on heat or easy food available. In the absence of biosecurity measures, sporadic cases of venereal transmission may occur, for example of Brucella suis or Aujeszky's disease (AD) virus. Even in the presence of barriers that effectively prevent direct contact between pigs and wild boars, airborne transmission can still take place (for example, AD or CSF viruses), or transmission through the introduction of contaminated food or fomites (with TB bacilli or ASF virus, for example) into the farm.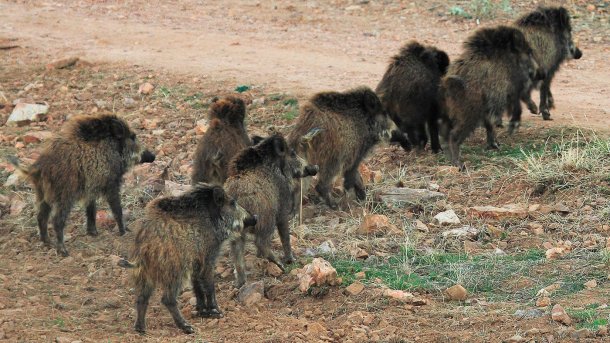 4) Have all populations of European wild boar increased their numbers? Why and what does it imply?
This is the reality, and it is bad news for animal health, as well as for the environment, road traffic safety, agriculture and even public health. A review on the subject, that included more than three decades of data from about 20 European countries, concluded that there is a continuous growth of the wild boar populations in all of them. The data patiently collected by Jose Luis Garrido —from the Hunting Federation— in Spain, indicate that the number of wild boars has multiplied tenfold since the 1980s. In the last hunting season, 2016-2017, more than 300,000 wild boars were captured, which would indicate a total population of around one million of these animals. In addition, as we have not yet reached stability, if the current growth rate continues, it is expected that this population will have doubled by 2025. The only recent exception is Estonia, where the combined effects of ASF mortality and hunting intensification, as a means of controlling ASF, have temporarily reversed this trend. The causes of this phenomenon are multiple, and include changes in land use, with bigger areas of woody plants and more irrigated crops, and a gradual reduction in the number of hunters, both in Spain and throughout Europe.
5) Are there any plans to control the population of wild boars? And to monitor their health status?
Hunting is essential to control the population of wild boar: in Europe, this is the main mechanism to control the population. However, populations continue to grow, indicating that the hunting effort should increase to, at least, slow down this growth. Dr. Oliver Keuling, an expert on wild boars at the University of Hannover, estimates that 65% of wild boars should be removed every year to maintain stability.
As for monitoring, even though its need is already evident and will eventually be implemented, is still not happening in a coordinated and consistent way. In relation to domestic pigs, the location and size of farms is known, and their health status monitored. The same should be true for wild boars, having their numbers and health status being monitored. However, while their health is starting to be monitored, at least for some key diseases such as CSF and ASF, population monitoring is limited, at best, to a follow-up of the hunting outcome.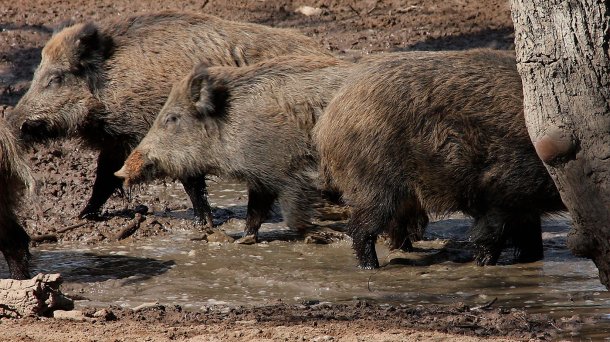 6) Are there other wild or feral animals that pose a greater risk?
There is no greater danger for pigs than other pigs, including wild boar. However, it is obvious that some pathogens can also be shared with other species in their environment, including domestic and wild carnivores, birds and, of course, ruminants, both domestic and wild.