Objetive
The installation of physical barriers at strategic personnel entry points help to define distinct biosecurity areas. This method is commonly used in farms that lack a clear separation between areas with different biosecurity levels.These barriers allow the movement of people in a way that will improve external biosecurity through the prevention of disease entry into a facility and internal biosecurity by minimizing disease transmission within the interior of the farm.In some cases,only the changing of footwear is required while in other cases a complete change of clothing and footwear may be required.
Tip description
The use of physical barriers (i.e. showers, benches "Danish entry" style, small walls or boards) attached to the walls of corridors that mark the end of one biosecurity zone and the beginning of another.To be effective and easily complied with on a daily basis by workers and visitors, they need to be CLEARLY DEFINED and PRACTICAL.
In North American swine facilities, these barriers are commonly used to outline biosecurity zones. Usually they are installed at a point where the change of shoes is mandatory (examples in pictures 1, 2, 3 and 4).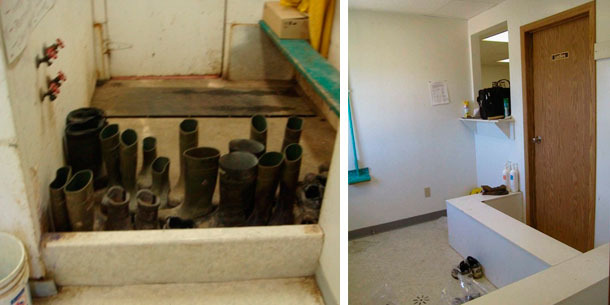 | | |
| --- | --- |
| Photo1: Separation of zones within a farm. The board attached to the floor reminds workers of the mandatory boot change point between the production area corridor and the office/lunch area. | Photo 2: This small wall acts as a bench to indicate the requirement to remove shoes prior to entering the shower area. This wall outlines the separation between the outside of the farm (outside shoes) and the neutral shower area (without shoes). |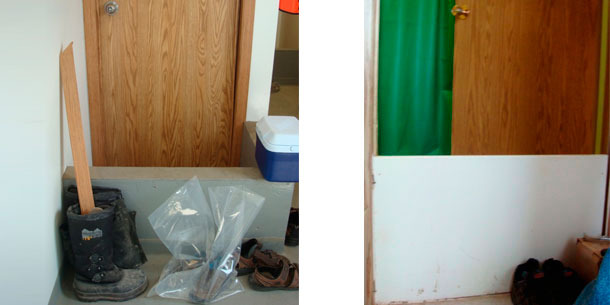 | | |
| --- | --- |
| Photo 3: Small wall that marks the point where the removal of shoes is required prior to the shower entrance. | Foto 4: Physical barrier separating 2 different biosecurity zones (shower area). This is an example of how a narrow plastic board may be utilized in a location where there is limited room to create a "bench type" barrier. |