The goal is to avoid the crushing of piglets in the farrowing pens. The reduced size of the farrowing pens on a farm may be the culprit for a great part of the deaths due to crushings as of their first week of life. With this method we try to reduce the number of deaths by providing the piglets more resting space by using the corridor.
Explanation
We saw that, on the farm, the farrowing pens turned small when the piglets started to gain weight and volume (as of their first week of life) and that they were crushed very frequently. Normally, the crushed piglets are those with a low weight or with some pathological problem, but on this farm a high mortality was detected in healthy animals with a good weight.
In the farrowing rooms it is difficult to provide more space to the piglets, as the farrowing pens are enclosed, but in this case, we decided to make use of the corridor. This system entails opening the doors of the farrowing pens of either side of the farrowing room (depending on the age of the piglets) and occupying the corridor to provide more space to the piglets, as we can see in the photograph.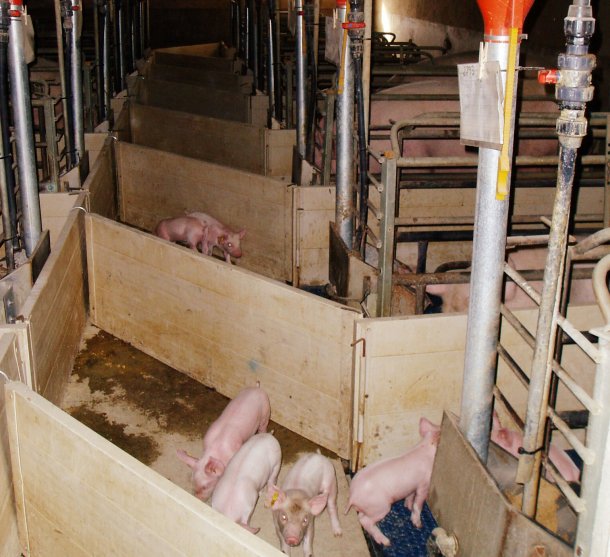 If there are animals susceptible of becoming crushed at both sides of the farrowing quarters due to the lack of space, then we will open the pen on one of the sides for one week at a time.
The problem with this system is that it complicates the farmer's work because the corridor becomes occupied. Due to this, this system is only used as of the fourth day of age, when the piglet handling tasks have ended because there are no more farrowings to tend to.
By using this system, we have detected an important improvement regarding the losses of healthy piglets with a normal weight due to crushings.
Miquel Oms Gabà, Lleida (Spain)