When we try to characterize a pig farm from a health standpoint, we begin by listing diseases that have never been present on the farm, and so hypothetically the farm would be free from PRRS, enzootic pneumonia, atrophic rhinitis, pleuropneumonia, scabies, swine dysentery, and so on. However, why is it we are still unable to characterize farms as Salmonella-free?
Mammals, birds and reptiles are likely to be infected with Salmonella, often become carriers of it and therefore are potential sources of contamination.
Salmonellas are very resistant in the environment, which means they are easily spread microorganisms since they are carried by contaminated material.
Pigs can be infected by a large number of serotypes and remain a carrier, but rarely develop disease since for the pig it is just a few pathogenic serotypes.
With these 3 features, and knowing that pig farms in general are not completely isolated from the external environment because: they need to renew genetic material (incorporating replacements); the hedges do not completely prevent the entry of wild animals and it is in fact common to find hints of rodents, birds, reptiles and sometimes even dogs or cats; the presence of insects is common and often abundant; visits occur with varying frequency, and the entrance of water and feed is essential as such or as raw materials. It is understandable that even in the hypothetical case of starting a farm with Salmonella free animals, after a short time the farm would become infected. Among the most probable sources of contamination are:
The pigs themselves (replacements) since, as we mentioned before we cannot characterize the farm as disease free, and carrying out analysis on an individual basis is out of reach for most farms, without going into detail of the limitations of their analytical techniques.
Contact with human carriers or their excrement. Unfortunately the level of biosecurity on farms is still less than optimal: requirements for change of clothes, shoes and washing and disinfecting hands or in its absence, the use of gloves.
Contact with other domestic mammals like dogs, cats, ruminants, and so on, or their droppings. It is relatively common to find cats used as a rodent control method or dogs with free access to the various rooms of the facility used as an anti theft method.

Contact with wild mammals such as rodents, etc. or their droppings. Anyone know of a rodent-free operation?

Direct contact with birds or their droppings. Anti bird net on the windows are popular and obligatory. But they are not always in good condition, or if they are, the doors are left open for better ventilation or access, or the animal management corridors are exterior and are not protected.

Direct contact with reptiles (lizards, snakes, etc.) or their droppings. Farms are located away from urban centers and therefore facilitate these animals' access to the facility.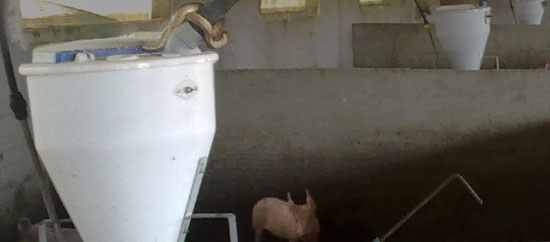 Picture: Josep Casanovas
Ingestion of insects (flies, larvae, beetles, etc.) that may have been contaminated by feces of mammal, bird or reptile carriers. The slurry itself is an excellent breeding ground for insects to complete their life cycle.

Oral contact with material previously contaminated with mammal, bird, or reptile carrier excrement. For example: trucks (specifically the area where animals are transported), carcass containers, boots, cleaning materials, etc. Trucks used for livestock transportation are not designed from a health standpoint: the transportation pens are full of angles, hinges, latches, etc., easily contaminated elements, difficult to sanitize when we think about obtaining a perfect disinfection (which is not the same as just cleaning).
Ingestion of feed or water that may have been contaminated by feces of mammal, bird or reptile carriers or by insects previously contaminated or previously contaminated materials. We have improved greatly in recent years as far as feed hygiene is concerned and we are increasingly aware of its proper storage (mainly due to the importance that production costs have on feed). However, the bacteriological quality of water is still the "Achilles heel" of many operations: it is not just about having a quality source but rather to prevent the quality from worsening throughout the distribution system (tanks, pipes, etc.).
The first step to controlling Salmonella should be to prevent new infections, as there are several serotypes that can coexist on a farm, and as one can imagine we must focus on controlling the sources of contamination above.