After four weeks of repetitions of prices in Spain, November ends with a drop by €0.01 per kg. This is a very bad sign indeed.
Germany fell hard on Wednesday 26 November, lowering its price by €0.04 after seven weeks of repetitions. In our sector we know well that if Germany sneezes the whole of Europe catches a cold.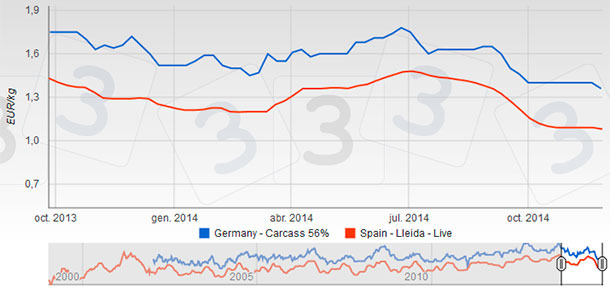 Germany currently exports to all the European countries. Its agressive prices drag the other EU members towards this downward spiral. There is no way out.
The slaughterings in the EU are very high (Germany slaughters more than a million pigs weekly, quite above its usual average), and Spain is no exception. The supply is very high and the abattoirs have absorbed it because they have had a margin, and slaughtering has been attractive for them. The prices of pork drop and the sales are not prosperous. Undoubtedly, to keep the high slaughtering pace, the abattoirs will ask for more concessions regarding the prices. November's bottom limit (four weeks at €1.09/kg LW) has not been enough, and we will have to go in deeper.
The absence of exports to Russia is a decisive factor. Although the exports to third countries have grown, it is true that the total of the European exports will be 150,000 tonnes lower than last year. The absence of Russia has not been totally compensated and the markets suffer due to this hindrance.
Christmas is coming, and we now than many working days will be lost at the abattoirs. As a consequence, the supply of live animals will be difficult to place and to be reabsorbed in January. The current price is already below the production costs, and we will have to gird our loins to endure an icy winter, economically speaking. Spring is still far away, and the road to get there will be a terrible ordeal for pig production.
The news and the expectations are not good, but we do not have to shoot the messenger for that. We have no more chance than to resist, waiting for all to improve. In some places in Europe there is a less competitive pig production than in Spain, and it will suffer more. It is cold comfort and a weak hope.
We need to export to new markets, and we need that the low prices of pork are transmitted to the consumers to encourage consumption. These two tasks should be undertaken by the administration.
As the great Victor Hugo said once: "The future has many names: for the weak it is the unachievable, for the fearful the unknown, for the brave the opportunity."
Guillem Burset