Goal
Avoiding carpal lesions in piglets applying a piece of plaster around their carpi on their first day of life.
Explanation
During the first days of the lactation it is frequent that the piglets injure the front part of their carpi when stimulating the udder of the sow, because many of them do so standing on their "knees".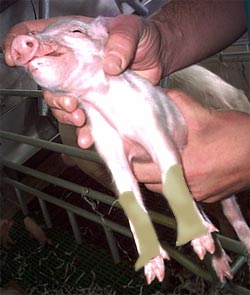 This situation is frequent even with non-abrasive slats (like plastic slats), and it can cause a serious problem with very abrasive floors (like concrete floors).
The affected piglets may develop a considerable injury, with loss of skin, and this leaves the door open for microorganisms. In this case the injuries become infected and the piglets may end up developing a serious lameness.
In order to prevent this kind of injuries we can apply a piece of plaster on the front part of the carpi of the piglet. We can take advantage of the moment in which we will perform the usual husbandry practices on the piglets (e.g. teeth clipping, tail docking, iron injection, etc.) so we do not have to handle them twice.
This plaster will last for a period time that will be enough so the piglet has matured a little and is not so susceptible to abrasions and infections.