The identification of Haemophilus parasuis as the agent responsible for Glässer's disease in piglets was made nearly 100 years ago, but since then the identification of the mechanisms that this bacterium has for producing disease has advanced relatively little.

Clinical-pathologic studies indicate that this bacterium must have mechanisms that allow it to colonise the upper respiratory tract, arrive to the lung and resist the defence mechanisms of the lung. Subsequently, it has to be able to invade the blood stream in order to reach different organs of the animal, where it reproduces and finally causes the inflammation which gives rise to the characteristic lesions of polyserositis and arthritis. Furthermore, in some cases it can produce meningitis which indicates its capacity to pass through the hematoencephalic barrier. On the other hand it is also known that there are some animals which carry H. parasuis that do not develop the disease. These differences between carrier and diseased animals is not due just to the immunologic state of the animals but also to the differences in the pathogenic capacity of distinct strains of this bacterium.

Table 1. Isolation of Haemophilus parasuis in distinct organs, after intranasal inoculation of piglets with the strain previously isolated from the pericardium. (Adapted from Vahle et al., 1995 J Vet Diagn Invest. 7:476-80 and Vahle et al., 1997 Can J Vet Res 61:200-6)



Organs that were processed for isolation from Haemophilus parasuis

Hours
p.i. *

Nose

Tonsil

Trachea

Lung

Blood

Pericardium

Pleura

Peritoneum

Joint

Meninx

Liver

Spleen

4

++

-

+

-

-

8

++

-

+

-

-

12

++

-

+

-

-

-

-

-

-

-

-

-

18

++

-

++

-

-

26

++

-

++

++

-

36

++

-

+

+

++

-

+

+

+

-

+

+

84

+

-

+

-

-

-

+

+

++

+

-

-

108

-

-

-

-

-

-

-

-

++

-

-

-

*p.i.: post-inoculation

The existence of strains of H. parasuis with distinct pathogenic capacity was demonstrated in the experimental infections with animals lacking the antibodies against the bacterium. These animals can be obtained by caesarean or by natural birth, but in both cases the piglets are prevented from taking colostrum and they are instead given a substitute feed which lacks antibodies. In this way, various authors have observed that there exist strains that are capable of reproducing the characteristic picture of Glässer's disease while on the other hand there are other strains that are harmless for animals, even those inoculated intraperitoneally.

The factors of virulence allow the pathogenic strains to survive inside the animal and cause the infection, while the non-virulent strains lack these factors and can only survive in the upper respiratory tract as colonisers. Recently, diverse genetic and functional studies have been carried out with the aim of identifying the virulence factors of H. parasuis.

Although distinct genetic methods have been tested with H. parasuis, until now no specific gene has been shown to be implicated in the virulence of H. parasuis. However, the functional studies have identified various mechanisms of virulence. These studies are based on the comparison between virulent and non-virulent strains in in vitro tests that attempt to simulate conditions in which the bacteria is confronted during the infection. So far we know that the virulent strains of H. parasuis are resistant to phagocitosis of the alveolar macrophages in vitro, they have the capacity to invade endothelial cells in cultivation and they are resistant to the bactericidal activity of serum (or what is the same: they are resistant to the complement). These faculties will allow them to survive in the lung of the animal, pass through the blood vessels, and possibly the haematoencephalic barrier, and survive in the blood stream and arrive to other organs. On the contrary, the non-virulent strains die in the presence of serum, they are destroyed by pulmonary macrophages and they do not have the capacity to invade the endothelial cells effectively.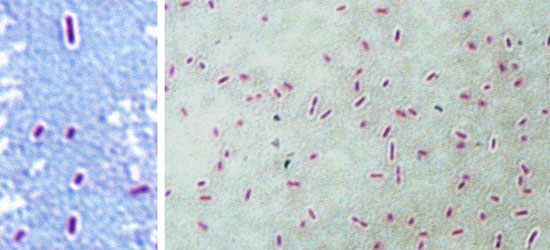 Figure 1. Maneval stain of the virulent Nagasaki strain, showing the capsule as a white halo around the bacteria. The capsule could be responsible for the resistance to serum and to phagocitosis in virulent strains of Haemophilus parasuis.

Current studies are focused on the identification of the molecules that are responsible for these functions. This will allow the design of diagnosis techniques to differentiate virulent and non-virulent (colonising) strains and will help to improve strategies to control the disease, especially in the design of vaccines that specifically eliminate the virulent strains.