Sows cannot produce enough milk to sustain optimal growth of their litters. It is therefore essential to use management strategies that will increase sow milk yield. The number of mammary cells present at the onset of lactation affects milk yield, but the factors affecting mammary gland growth are not all known. At each parity, the mammary gland undergoes a cycle of rapid growth during the last third of gestation and during lactation, followed by involution at weaning. Mammary involution is a drastic process which occurs in the 7 to 10 days following weaning. Mammary gland involution also takes place in early lactation when glands are not being suckled by piglets. It is a rapid process which occurs during the first 7 to 10 days of lactation and is irreversible after 3 days of non-suckling. This brings up the question of the importance of use of a teat in the first lactation on its productivity in the subsequent lactation. Such a question is of great interest because producers try not to "over-use" first-parity sows to avoid the "thin-sow syndrome" and in order to achieve that goal they will remove suckling piglets from a litter in first parity. Yet, the potential impact of a teat not being used in one lactation on its milk yield in the next lactation was not known until recently.
A study carried out at Agriculture and Agri-Food Canada (Sherbrooke, Québec) showed that not using a teat in first lactation will reduce its milking capacity in the next lactation. In the experiment, 47 first-parity sows were divided into 2 groups:
same teats used in 2 subsequent lactations (controls), and
different teats used in 2 subsequent lactations (treated).
In the first lactation, teats from both sides of the udder were blinded so that 6 functional teats remained (Figure 1). During the next lactation, control sows had the same teats blinded as in the first lactation and the reverse was done for treated sows. Weaning was on day 17 ± 1 of lactation.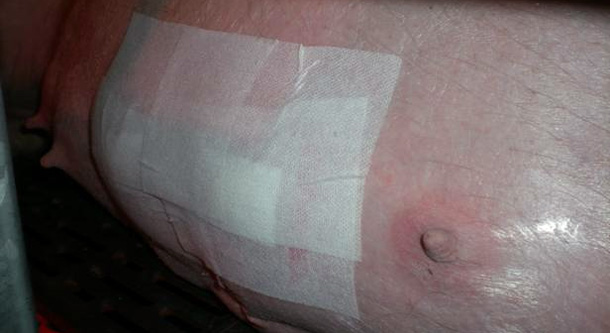 Figure 1. Taping of selected teats in lactation.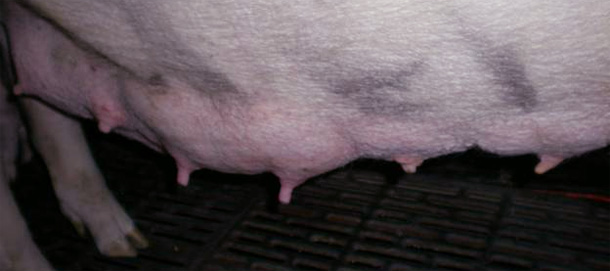 Figure 2. Visual difference between suckled and unsuckled teats on day 7 of lactation.
In both parities, litters were standardized to 6 piglets so that there was one available teat per piglet. Figure 2 shows the different development on day 7 of lactation between teats that were taped or not. At weaning on the second lactation, sows were slaughtered and mammary glands were collected for compositional analyses. Piglets from sows with the same teats used in both parities (controls) weighed 1.12 kg more (22.72 vs. 21.60 kg) on day 56 of the second parity than piglets from sows with different teats used in two successive parities. Differences in weight between the two groups of piglets before that age were present but not statistically significant. It is important to mention that a significant difference in piglet weight gain was already seen between days 2 and 4 of lactation, suggesting that colostrum yield might also be affected. Milk composition was not altered so differences in piglet weight had to be due to amount of milk produced. Sows with the same teats used in both parities (controls) had greater feed intakes in the second lactation than sows with different teats used (treated). Composition of the mammary tissue was altered so that there was more milk secretory tissue in control sows than in treated sows. Behavioral measures were obtained on days 3 and 10 of lactation to evaluate satiety of piglets based on aggressiveness and nursing behavior. These measures indicated a greater hunger level for piglets using teats that were not previously used. Findings clearly show that teats which were suckled in first lactation produce more milk and have a greater development in second lactation than unused teats. Interestingly, a pilot study demonstrated that piglets in the second parity can differentiate between previously-suckled and previously-unsuckled teats as shown by differences in aggressive behavior. Indeed, piglets fight more to get to teats that were used in first lactation.
These findings provide useful information that will assist swine producers in deciding whether or not to reduce litter size in first-parity sows. This is most relevant taking into account the current use of hyperprolific sow lines.