Understanding the global impact of the ASF outbreaks in China on pork exporting countries is a juggling act and there are lots of balls in the air. The conventional wisdom is that these outbreaks will lead to a windfall gain for exporting countries as the level of mandatory culling in and around new cases begins to impact the total availability of pork in the country. The problem with the logic of the conventional wisdom is its purveyors are juggling with only one ball, holding the others "suspended in air". Too easy, and gravity tends prevail.
A country that eats more pork than any other on earth and where even lower cost chicken trails well behind pork in popularity (though yes, it is sneaking up a bit like everywhere in the world) is an export target for sure. It is understandable how it might consume the most total pork compared to other countries since it has the largest population. However, that's not the real story. The heroic part is notwithstanding the wide range of incomes still present in China, and the dramatic middle class expansion of the last two decades, Chinese pork consumption is estimated to be over 30kg per person per year, roughly equal to the European average consumption and over 30 percent more than US per capita consumption. They achieve this feat with incomes roughly 20% of the average EU income and 14% of average US per capita income. What could go wrong here for the exporters? See Figure 1. Note that the rate of growth of pork consumption has been falling for several years in China and is correlated to the same fall in the rate of real growth in Gross National Product (National Income) GDP.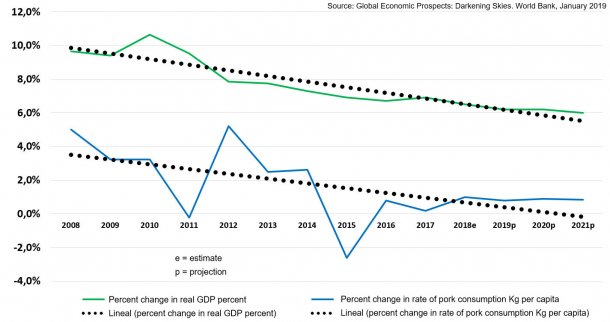 Here's another ball to put into play, the World Bank just issued its flagship report for 2019 entitled, "Global Economic Prospects" with an ominous tagline: Darkening Skies. Recall that last month we noted when demand is everything, prosperity is essential. The epicenter of this cloudy forecast seems to be China where slowing in the rate of growth has finally resulted in the government attempting to curb credit to dampen the building and infrastructure boom which has gotten well ahead of its occupancy and profit use. Young, middle class Chinese especially, many of whom have recently purchased homes/apartments are experiencing something like the US housing crisis of 2008-9. The overbuilt glut has dramatically reduced the value of their investments making the sale of their apartments impossible and therefore halting their mobility and stalling the rise in their income.

Toss in another ball. The tariffs imposed by the US and the first spasms of slowing have hit in the demand for tech and tech components, a major part of the Chinese economy. Apple's stunning downward revision of demand revealed that Chinese consumers were shifting away from high-end cell phones and tech in a defensive move against lowered future incomes and potential employment uncertainty. Stalled incomes and dramatically reduced wealth make lower priced chicken look pretty good. Cheaper phone, cheaper dinner.
All of this strongly suggests that demand for pork in China will likely fall faster than its current rate of growth deceleration, not only as its price rises due to reduced supply but also due to income uncertainty from the powerhouse middle classes. China tends to strongly resist showing vulnerabilities which could place it at a real disadvantage in trade so don't expect it to come to the export markets hat-in-hand ready to pay top dollar for a lot of pork. That shift to chicken as a percent of the total Chinese meat consumption may accelerate a bit as relative prices make it more irresistible over time. Adding to the reduction in demand, at least temporarily, will be reduced purchases associated with the idea of potentially "eating diseased pork", especially for the urban consumer regardless of the true assurances that there is no hazard to human health.
Now add the ball associated with the pesky rise of the resistance to the "New World Order", i.e., globalism. Too much dislocation, structural unemployment, permanently lowered standards of living, taxation to deliberately slow the use of necessities like gas/diesel (threatening mobility) and electricity (threatening the home) etc. Here come the Yellow Jackets and not only was their emergence a surprise but their persistence a warning. The message is people before ideas. Cultural preservation movements and the European-vision fracture exemplified by Poland, Hungary and Italy, for instance, (BREXIT fits here; outcome still very uncertain), and rising populism in other countries such as Brazil and the US and global trade is beginning to stumble primarily through uncertainty.
Bottom line: In the last few days, we have shifted the market consensus on the peak summer pork prices in the US to below $80/cwt carcass (€1.54/kg) for the first time since November 2018. What remains in the price pattern is more like the normal seasonal increase for summer which is slowly receding, like a mirage, as we move ever so slowly toward it. There is no evidence in the current US forward pricing opportunities of any windfall export gain arising from large increases in sales to China originating from the US any time this year. I hope I am wrong. Maybe next year but many new balls to juggle are yet to be tossed into the mix.