Although PRRS is a relatively new disease having first 'emerged' in Canada in 1979 it is now endemic in nearly all countries of the world causing devastating production and economic loses due to reduced piglet production, rebreeding problems and respiratory disorders. Various estimates suggest that between a quarter and a third of the global cost attributed to infectious disease is due to PRRS. Often the disease is persistent so that infected pigs tend to recover but still shed virus thus infecting naïve pigs. This suggests that there may be delayed production of neutralising antibody, reduced levels of both innate and adaptive immune response and high PRRS virus mutation during replication increasing the genetic diversity of the virus.

Co-ordinated international collaboration is looking at many aspects of PRRS but the 'holy grail' of producing pigs that are genetically resistant is proving rather elusive. However, the tools and technologies developed in 'genome' projects are giving new opportunities to unravel the genetic background to host response to infection by PRRS.

There is now ample evidence that there is significant host variation between different breeds as well as significant differences in within breed host tolerance. For example, German research has shown that, following PRRS challenge, a strain of Miniature pig showed greatly reduced duration of viremia and persistence as well as a significantly lower virus load than a commercial Pietrain line. In the US, there were highly significant differences to challenge in the response of pigs in a Duroc-Hampshire compared with a Large White-Landrace composite line.

A recent collaborative study based at the Roslin Institute, Edinburgh was the first genome-wide SNP study to ask the question 'can some of the genetic variation be captured by genetic markers?' The researchers did this by analysing data collected on more than 8000 litters in a single herd over a ten-year period during which two PRRS outbreaks were reported. A 7K SNP chip was used and identified several significant SNP's acting independently suggesting that many genetic regions affect PRRS tolerance. The genotypes included Landrace, Large White, Pietrain, Meishan, Duroc composite, and various crosses. Interestingly, the impact of the PRRS virus was greater in the Meishan breed compared with their European counterparts. Validation is now underway in other herds using the latest and larger SNP chip to see if the identified SNP's are again significant across herds and also to check whether there are any adverse correlated effects in production traits.

Meanwhile, in Italy, a resource database combining DNA samples plus pedigree and performance data for health and production traits has been collected from more than 5000 animals from four genotypes (Duroc, Landrace, Large White and Pietrain) in 18 genetically connected commercial farms. Several highly significant SNP's were identified, and the work is continuing to look at multiple markers and to investigate whether markers are consistent across trials.



Multidimensional scaling plot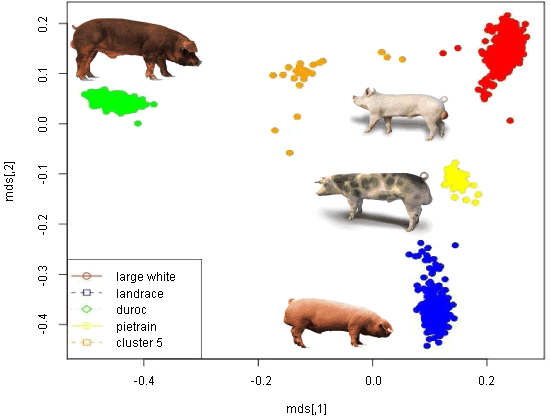 Genomic Relationship – Multi-Dimensional Scaling (MDS): SNP distribution cluster with breeds.



The outcome from the results from the research to date suggest that there is sufficient genetic variation in host response to infection to allow future breeding goals for enhanced resistance or tolerance so that there are grounds to believe that it may be possible to breed commercial animals that have increased genetic resistance or tolerance to the disease. However, the complexity of the disease and the high number of potential markers involved suggests that cost-effective production of such animals in large numbers may not be possible for several years.


Definitions:

An SNP chip is a small piece of silicon glass onto which a large number of DNA 'probes' have been attached. These then 'stick' selectively to DNA molecules whose amino acid sequences are exactly complementary – thus, T pairs with A, and G with C. They can therefore be used to identify the presence of specific DNA sequences and to look for DNA sequences that differ by a 'single nucleotide polymorphisms'.

SNP (pronounced SNIP) stands for 'single-nucleotide polymorphism'. It is a difference in a single amino acid between individual pigs in the genetic code or DNA sequence. SNP's are the most common type of genetic variation.