Goal
To include manipulable materials for the fattening pigs.

Description
This trick consists in offering cheap manipulable materials that satisfy the pigs' needs. In order to do this, we will use a piece of wood attached to a short chain that is used to hold the piece of wood, as well as for the pigs having fun.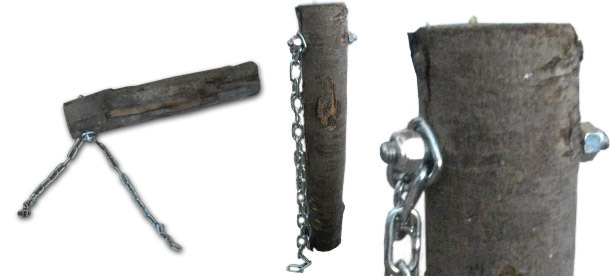 Explanation
The pieces of wood are commonly used as manipulable material for sows and piglets. Nevertheless, the arrangement of this material is not easy. The pieces of wood that become detached and that remain in the pen get soiled easily, they can

end up in another pen (if the divisions are not solid), or they can end up blocking the slurry pit, because they wear down with time and they can reach a smaller diameter than that of the slat slots width. In this case we have attached a piece of hard wood (length: 50 cm, diameter: 8 cm) to a chain (links of 3 x 5 cm). We pierce one of the ends of the log with a threaded rod (length: 12 cm, diameter: 8 mm). The chain is fastened to the threaded rod with one of the nuts that avoid it from coming off of the log. Now the material is ready to be placed in the pen: it can be fastened to the wall or to the division between pens (in this case it can be used by two groups of animals).
Approximate cost per unit
A 50 x 8 cm chestnut log = 0.40 €
Two 8 mm nuts = 0.04 €
A 8 mm x 12 cm threaded rod = 0.10 €
Labour force: In an hour, 30 logs are obtained.
Total value: 0.54 € + the labour force.
The cost of attaching the log varies depending on the place: if it is attached to the division, the cost is minimal, and if it has to be attached to the wall using screws, the cost increases a little bit more.