The FAO Meat Price Index averaged 163.6 points in February, up slightly (1.2 points or 0.7 percent) from January but still 4 percent below the corresponding month last year.
In February, price quotations for bovine and pigmeat increased, underpinned by robust import demand, along with limited export supplies of bovine meat, especially from New Zealand, and of pigmeat from the EU. However, poultry prices fell due largely to slower pace in foreign sales, while ovine meat prices also declined, reflecting abundant export supplies from New Zealand.
On the other hand, the FAO Cereal Price Index averaged almost 169 points in February, up marginally from January and nearly 8 points (4.7 percent) above its February 2018 level. Among the major cereals, maize prices rose the most, driven up by higher export quotations from the United States mostly because of worries over shipping disruptions. However, wheat prices, which started the month on a firmer note due mostly to supply concerns, fell under significant downward pressure on weaker pace in purchases. FAO's rice price index held steady, as slow demand depressed Indica quotations, offsetting continued gains registered in the Japonica market driven by brisker trade.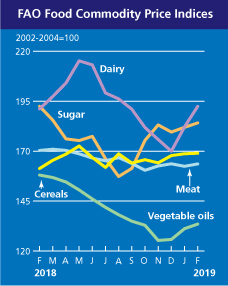 Thursday March 7, 2019/ FAO.
http://www.fao.org