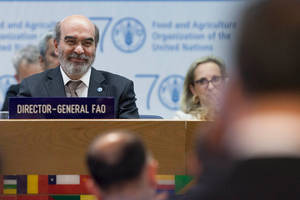 Incumbent FAO Director-General José Graziano da Silva was re-elected to a second term in the Organization's top post with the highest number of votes ever in the history of the Organization.
In ballot by FAO member countries, Graziano da Silva received a total of 177 out of 182 votes cast.
Nominated by Brazil, Graziano da Silva was the only candidate during this year's election cycle. His new term will run from 31 July 2015 to through July 2019.

The election took place on the first day of FAO's biennial governing Conference (6-13 June).
Saturday June 6, 2015/ FAO.
http://www.fao.org