During the first 10 months of 2016, the EU produced a total of 19.16 million tonnes of pork: 152,100 tonnes more than during the same period in 2015 (+ 0.8%).
Although Germany kept its role as the main European pork producer, with a total of 4.6 million tonnes between January and October 2016, and a slight decrease in comparison with the same period in 2015 (-0.8%), Spain, the second producer, stood out with a total production of 3.37 million tonnes, that entailed an increase by 164,000 tonnes (+5.1%) with respect to the same period in 2015, with its increase in production exceeding the total rise in the EU in the same period.
Pork production also rose notably between January and October in absolute value terms in Poland (+51,700 tonnes), Italy (+41,100 tonnes), France (+19,800 tonnes) and Hungary (+14,000 tonnes). On the other hand, Belgium, Denmark and Germany suffered decreases by 55,000 tonnes, 54,200 tonnes and 36,000 tonnes, respectively.
The USA, the third pork world producer after China and the EU, accumulated, in the first ten months of 2016, a total production of 9.3 million tonnes, that entail an important increase in comparison with the same period in 2015 (+152,000 tonnes).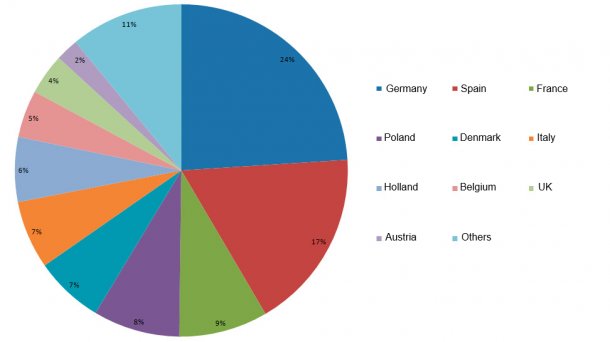 January 2017/ 333's editorial department based on data from Eurostat.