In order to meet the increased worldwide demand for UK pig products and services, JSR Genetics have purchased a 650 sow Nucleus unit in Saskatchewan, Canada.

The unit, located outside Saskatoon at Elstow, has been purchased from the Prairie Swine Centre, who have a strong reputation for applied pig research to pig businesses both in Canada and in international markets.

Tim Rymer, Chairman of JSR Genetics commented "We are delighted to have completed the purchase of this excellent facility and to continue the link with the Prairie Swine Centre. We intend to use the unit as a Centre of Excellence for our genetic improvement programme by utilising the first class training facilities and interactive gallery for our customers and their technicians across the Latin American and Asian markets.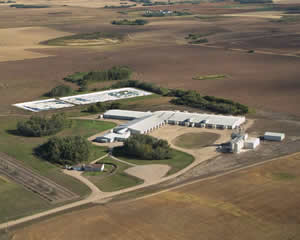 Dr Grant Walling, Research and Genetics Director, added "The Elstow Nucleus will be connected to the UK, and our other Nucleus units around the world, by our bespoke software JSR SELECT. This will further accelerate genetic improvement in our key traits. The Prairie Swine Centre is well known for its proficiency in R&D, our co-operation with them will bring additional expertise to our technical team's already excellent track record in applying research and development to facilitate outstanding performance, both for our customers and worldwide partners."