Good news for Big Dutchman in the run-up to EuroTier 2010, the world's leading exhibition for animal husbandry being held in Hanover, Germany, from 16 to 19 November 2010. After assessing 200 innovations submitted by EuroTier exhibitors, an international expert commission set up by the German Agricultural Society (DLG) has awarded three gold and 18 silver medals on the basis of strict criteria. The only Gold Medal in the important sector of pig management and feeding technology has thereby been awarded to Big Dutchman Pig Equipment GmbH.

The award-winning innovation is SonoCheck, a newly-developed device for automatic pregnancy checking of sows in group housing. Every sow that enters the Big Dutchman electronic sow feeding system (ESF) CallMatic Pro is automatically scanned with an ultrasound scanner. Thus SonoCheck helps to minimise working time as it requires much less effort to examine the sows. Moreover, it markedly reduces the stress for the animals.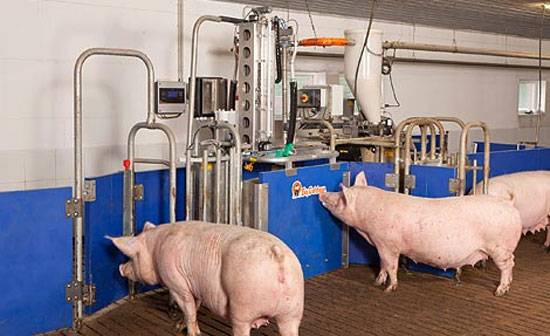 Gold for SonoCheck which was developed especially for the Big Dutchman electronic sow feeding (ESF) CallMatic Pro.



A Silver Medal has been awarded to QuigTag: location symbols in the pig house aid the farmer in using the software of so called PDAs palmtop computers and considerably facilitate navigation. "The approach is well thought out", the expert commission concluded. "Data entry is made easier by meaningful symbols; tiresome and time-consuming navigation from one menu level to the next is no longer necessary". Beyond that, the Big Dutchman solution also holds the promise to facilitate the mobile use of other programs.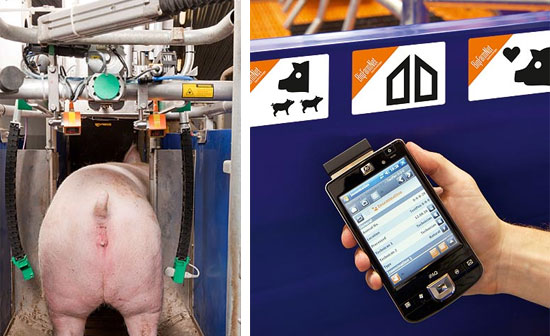 | | |
| --- | --- |
| A pregnant sow enters the ESF station to eat and "as in passing" is tested for pregnancy – all without stress. | QuigTag speeds up and simplifies data entry on a PDA. |

Both award-winning innovations form part of the new all-in-one BigFarmNet technology for pig production control. The completely new technology which Big Dutchman is going to present for the first time ever at EuroTier 2010 links the whole farm, which means that all house applications and controllers can be operated with just one single software. Thanks to a unique operating concept, all important functions and information can be accessed easily and intuitively. Another advantage is that all buildings and the equipment are displayed as 3-D animations in exactly the same manner as they are installed on the farm. All functions can be manually accessed via these 3D-images.

Big Dutchman