Goal
This trick consists in creating a nest using the crates back corridor.
Description
With the growing number of piglets born per farrowing, it is basic to provide an appropriate environment for the birth and during the lactation. The recovery of the temperature after the farrowing and the presence of an appropriate microclimate for the piglets, different to that for the sows, is essential for a good performance during this stage.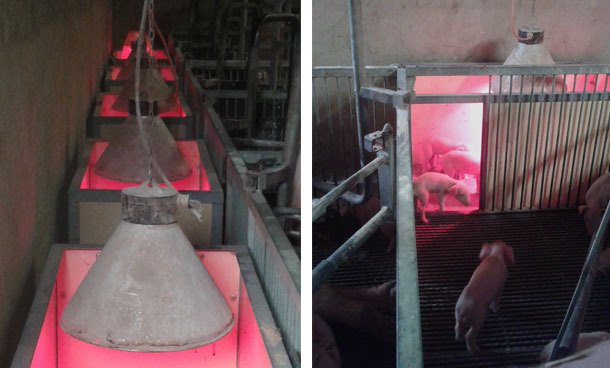 In this case we will use the corridor located behind the sows (if it exists) in the farrowing room for creating the area of movable nests. A 60x90x40 cm rectangular container is built with an iron frame and with PVC or DM walls. It is not necessary to cover the bottom, because the floor will bear materials such as sawdust, paper strips, rubber mats, straw, etc. One of the longer sides will have a 40-cm opening that will coincide with the farrowing crate entrance, that is made of the same size to facilitate the access for the piglets.
The nest is incorporated in the rear part of the crate, in this specific case in which the crates are located diagonally, in the area that does not coincide with the rear opening for the sow. The lamps must be changed from its usual location (in this case beside the sow) and taken to the nest to complete the microclimate that we have created.