Polyserositis and arthritis are major disease challenges that affect post-weaning pigs. Haemophilus parasuis and Streptococcus suis are typically considered as the main cause of such presentations. However, in recent years, it has been observed that Mycoplasma hyorhinis also plays a role in polyserositis and arthritis cases, increasing morbidity and mortality. This bacterium is commonly found in pig farms attaching to the upper respiratory tract of swine. It is assumed that piglets get infected from the sows or from older pigs. Although a commensal, M. hyorhinis may cause serious systemic disease through mechanisms that are not fully understood. It is believed that differences between strains, concomitant infections and certain environmental conditions promote the development of disease.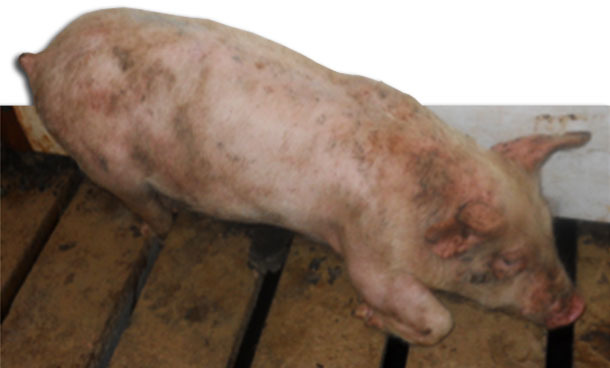 Figure 1. Post-weaning lameness is a frequent clinical sign observed with M. hyorhinis systemic disease.
Reported clinical signs include fever, dyspnea, lameness and reluctance to move in pigs of 3-15 weeks of age (Figure 1). The clinical signs and lesions have been extensively reproduced in experimental inoculations. Acute lesions are characterized by pleuritis, fibrinous pericarditis and peritonitis (Figure 2). Chronic lesions are characterized by pleural and pericardial adhesions. In finishing pigs, M. hyorhinis is responsible mainly for arthritis that commonly affects the hind legs. Joints may contain larger amounts of fluid and fibrin, with the synovial membrane thickened and red. Gross lesions and those observed by histopathology are identical from those caused by H. parasuis (Glasser's disease), so it is required to perform PCR test or attempting bacterial isolation to properly diagnose disease etiology and determine the appropriate antibiotic treatment for the affected herd.
| | |
| --- | --- |
| | Figure 2. Polyserositis lesions observed with M. hyorhinis systemic disease. |
Approximately 55% and 12% of poliserositis and arthritis cases received during 2010 at the University of Minnesota Veterinary Diagnostic Laboratory (UMN-VDL) tested M. hyorhinis PCR positive. These data suggest the impact of M. hyorhinis on post-weaning morbidity and mortality. The role of M. hyorhinis as a cause of pneumonia is not well understood; however, several studies have isolated or detected M. hyorhinis more frequently from pneumonic lungs compared to normal lungs. A few experimental inoculations of gnotobiotic pigs combined with stress-inducing techniques have resulted in mild pneumonia lesions. Roughly, 45% of pneumonic lungs received at the UMN-VDL tested positive for M. hyorhinis by PCR, but it appears that M. hyorhinis plays a secondary role in pneumonia cases.
How do I diagnose M. hyorhinis?
Detection of M. hyorhinis is relatively simple and will depend on the objective of the testing. If the purpose is to track the dynamics of M. hyorhinis colonization on a farm, it would be appropriate to do serial collections of oral fluids, nasal or oropharyngeal swabs of pigs from weaning until market (Figure 3-4). The number of samples and frequency of collection will determine the sensitivity of the surveillance protocol. It is important to remember that the detection of M. hyorhinis in any of these samples is not indicative of disease since this bacterium is a commensal of the upper tract of the pig. The understanding of the dynamics of colonization is essential to determine the ideal time for antibiotic or vaccination implementation.

Figure 3.

Collection of nasal swabs from nursery pigs for the detection of M. hyorhinis

Figure 4. Collection of oral fluids from nursery pigs for the detection of M. hyorhinis
On the other hand, if the objective is to determine whether M. hyorhinis is the cause of poliserositis or arthritis, tissue or swab samples must be taken from pleural, pericardial or peritoneal lesions, where the presence of the agent is not considered normal. Joint tissue or synovial fluid should be collected from arthritis cases. Samples should be taken from pigs in the acute stage, which have not undergone antibiotic treatment. All samples must be refrigerated and quickly sent to the diagnostic laboratory for processing.
Isolation of M. hyorhinis in modified Hayflick's broth and solid media can be achieved in a short period of time. Colonies can be observed on solid media around 4-15 days after inoculation. Currently there are no commercially available immunological assays for M. hyorhinis. Several PCR protocols targeting M. hyorhinis DNA have been published; however, they are not capable of quantifying the amount of bacterial DNA in a sample and have been mostly developed for the detection of M. hyorhinis in cell cultures, since this bacterium is a common cell contaminant.
Treatment and control
M. hyorhinis is susceptible to lincomycin, clindamycin, furaltadona, kanamycin and all sulfonamides.Since mycoplasmas lack a cell wall, penicillins and cephalosporins have no effect on this pathogen. Administration of the medication before exposure or shortly after may increase the success of the antibiotic treatment. Information regarding antibiotic efficacy under field conditions is not available. There are currently no commercially available vaccines. Veterinarians report the use of autogenous vaccines; however, the efficacy of these products has not been evaluated. Prevention of concomitant infections (i.e. influenza virus and PRRS virus) might help in reducing systemic spread of M. hyorhinis.