Goal
Speeding up and simplifying the task of moving piglets.
Description
We know that moving piglets, whether small or big, is an arduous task that requires physical labour and time. As in many farms the staff and the time are, due to different reasons, "too scarce", we must try to simplify and introduce tools that facilitate the chores, such as the transfer of pigs from the nursery to the fattening buildings when they weigh some 20 kg.
Explanation
On this farm, the moving of pigs is even more complex: the pens are some 70 cm above ground level. The piglets arrive from the farrowing rooms (in front) and remain in these pens until 60 days of age or some 20 kg LW: a "classic" nursery. As the pens are above ground level, it is difficult to grab the pigs and take them down to ground level and then proceed "on foot" to the fattening buildings. Therefore, more than 30 years ago, an idea came up (from what was or is done in poultry farming): setting up a conveyor belt that could overcome this drop and take the pigs directly to the transportation trailer, the only task being placing the pigs on the conveyor belt.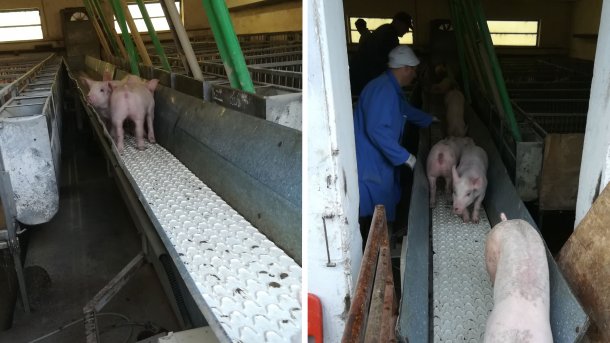 Nowadays, the idea is still being used: the conveyor belt is still the same, and only the rubber belt (equipped with an anti-slip relief) has been replaced. Also, while the pigs are on the belt some procedures, such as vaccinations, can be carried out. The conveyor is completely metallic, it has 50-cm high lateral walls and it is obviously electric. When it is used it is fastened to a rail in the room, and it also has wheels, so it is easier to move it from place to place.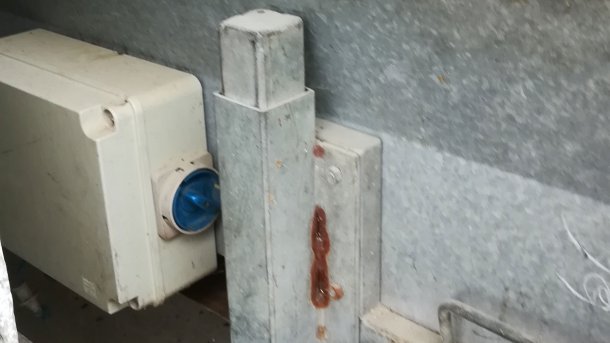 It is an idea that can also be useful for moving small piglets from the farrowing rooms. In some units, the farrowing pens are above ground level, and the piglets are normally picked one by one and placed in a cart. In these cases, the use of the conveyor belt would allow to take the piglets to the cart or directly to the lorry.