Goal
Having an unbiased method to evaluate the dryness of the surfaces.
Description
A simple piece of cigarette paper will help us to evaluate in an unbiased way if the surfaces of the rooms or the buildings at our farm are completely dry after cleaning and disinfecting them. It is essential that the walls and the pavements are dry before the animals enter the room. Dampness favours the growth of microorganisms and represents a thermal stress source for the animals that enter the room.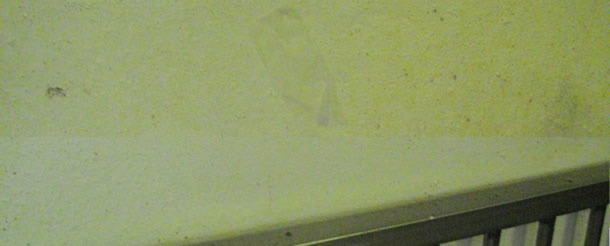 Image 1. The piece of cigarette paper stuck to the wall shows an incomplete drying of the room
After the cleaning and the disinfection a certain period of time is needed for the room to dry. The drying period depends on different factors: the kind of material, the external weather conditions (humidity and temperature) and the internal climate conditions (natural or forced ventilation). For example, a cement pavement or surface, that absorbs the humidity, needs at least 24 hours to be completely dry.
In order to make sure that a surface is dry, we will use a piece of cigarette paper and we will stick it to the wall or the floor. If the piece of cigarette paper remains "stuck" to the surface, it means that it has absorbed the humidity, so the environment is not suitable for the animals to enter the room. If, on the contrary, the piece of cigarette paper does not "stick" to the surface and it "flies away", this will mean that the surface is dry and that it does not give off dampness.
Video 1. Wet wall
Video 2. Dry wall