According to the information published by the Polish Veterinary Service, the veterinary authorities discovered, last 17 July, that three pigs had died on a farm near Bialystok and that their corpses had been buried by the owner without a previous notification on this matter to the veterinary inspection organism.
The corpses were exhumed and disposed of in a safe way under the supervision of the Veterinary Inspection.

The Veterinary Service of the district of Bialystok started making the list of animals and farms that are in the protection and surveillance areas. The intensive work for the slaughtering of the animals of the farms located in the area, and in the places where it is epizootically justified, have been continued. On the other hand, in the district of Bialystok, the administrative rulings for the hunting clubs will be issued, ordering the hunting of wild boars.

Also, the Veterinary Services are carrying on with intense contacts and the exchange of information with the Lithuanian veterinary authorities with the aim of coordinating the activities aimed to the reduction of the risk of the spreading of the ASF in both countries.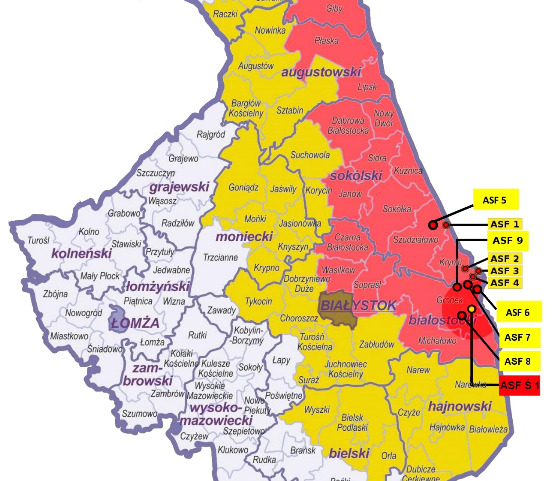 Saturday July 26, 2014/GIW/Polonia.
http://www.wetgiw.gov.pl/