Owned by Michiel Taken, JSR Hybrid Deutschland is rapidly becoming one of the most successful breeding companies in Germany, and is on target to sell 20,000 gilts this year, which is more than double its first-year total of 7,000. With exclusive rights to distribute JSR stock right across Germany, JSR Hybrid Deutschland has already expanded its franchise into Holland and Belgium and boasts nine nucleus and multiplication units in total.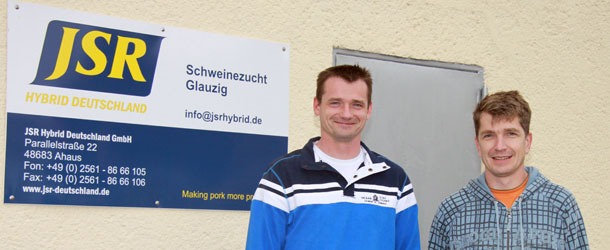 Having previously worked for another European JSR franchise, Michiel felt confident that JSR stock would meet the demands of his customers, as he explains:
"We're currently using a combination of JSR's Landrace and Large White nucleus dam lines to produce Genepacker 90's, which we used to establish our nucleus and multiplication herds. The Genepacker 90 offers the exact qualities that our customers are looking for and we're very impressed with the results"
Lean meat is in high consumer demand throughout Michiels' territory and JSR Hybrid Deutschland's customers are looking for pigs with a high muscle content, which the Genepacker 90 produces. The pigs also need to be robust, helping them to withstand the varying weather conditions of high temperatures in the summer and very low temperatures in the winter.
Michiel feels this is particularly important because units in the German market that were traditionally small are now set to grow in size. Docile, easy to manage females will cope more easily with capacity increases, making the Genepacker 90 ideal for customers about to expand. In addition, Genepacker 90s are fast growing and remain lean at the top grades. This offers good feed efficiency for JSR Hybrid Deutschland's customers and gives them the potential to maximise output and minimise cost by finishing pigs more quickly or taking them to heavier slaughter weights in the same time frame.

Though JSR's high quality genetics have played a vital role in JSR Hybrid Deutschland's success so far, Michiel also values the support JSR have been providing. He said:
"JSR have worked with us at every stage, helping us to manage and monitor our use of their genetic software program, JSR Select, and have provided a unique level of support and our business has benefited significantly from their extensive experience and knowledge of the industry."
JSR Select is a custom designed management program and database which solves over 4.75 million equations per week to help improve performance and efficiency for its' users.
"We now have 2500 sows across our nucleus and multiplication sites, with room for growth, and we're hoping to increase gilt sales from an expected 20,000 this year to 30,000 by the end of 2014. Business performance is very good and the future is looking positive."
Ben Rawson, International Key Account Manager at JSR Genetics, is delighted with the success of the franchise so far:
"We're very pleased that our genetics and support have helped Michiel make such a success of his business so early on. We're now looking forward to continuing to support Michiel and work closely with him to ensure he's producing the best products for his markets.
"The franchise agreement that we have with JSR Hybrid Deutschland has proven to be a valuable one for both parties, and is testament to the results that can be achieved through a positive relationship such as this one. We're always on the lookout for new agents or business partners to work with and hope to take on many more in the future."
September 18, 2013 - JSR