On September 13, WEDA Dammann & Westerkamp were presented with the renowned Innovation Star in the Pig Management Category for their Fermentation Software Fermi 4PX. The eagerly sought-after price was awarded to the manufacturers of house equipment from Lower Saxonian Lutten within the framework of SPACE, the
French leading trade fair for modern animal managements at Rennes.

The responsible persons at WEDA felt honoured and delighted about the positive judgement of the independent expert jury of agricultural journalists, scientists, and technicians: Fermi 4PX was especially well suited to fully automatically control and monitor the processes of a liquid feeding unit with fermentation so that the health-promoting fermentation will surely come out to be successful.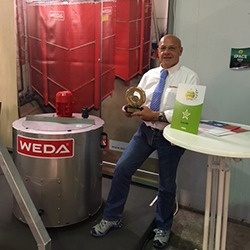 Below the line, the innovation saves the unit operators work, time, and money. The reason for this: the Fermi 4PX calculates the exact amounts of the feed components as well as their mixing ratio and creates a mixing plan. Complex adjustments as well as component and temperature calculations and controls are therefore not necessary any more. Instead, the system warns the user in good time in case things might not be going according to mixing plan. In this case, the necessary corrections can still be carried early enough.

"The award confirms our endeavours to rely on fermentation and on the innovations in the fermentation process", emphasizes Jan Bernd Diekhaus-Röttger, Head of Sales and Marketing of the company of WEDA Dammann & Westerkamp, and points out that the use of fermented feed in pig managements offers numerous advantages.
Besides improving animal health, these are advantages are mainly sinking feed and health expenses as well as - last not least - the protection of the environment". All these advantages can now be made use of to the full extent by means of the Fermi 4PX Software because a comprehensive software package of this kind has up till now not been obtainable in the market of feeding computers", summarized Jan Bernd Diekhaus-Röttger. In this sense, the WEDA Software does not only involve an innovation but also a sustainable support for farmers and animals.
September 15, 2016 - Weda